Varsity boys soccer reigns victorious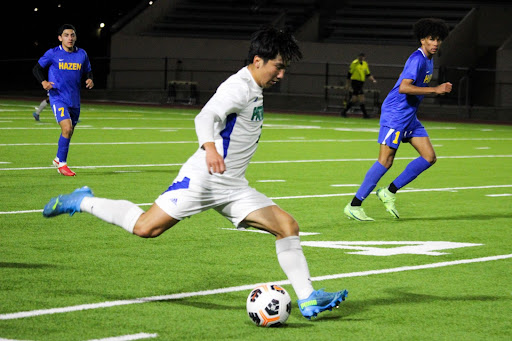 Currently ranked as one of the best teams in KingCo 3A and on track to compete in the championship game, Liberty's very own boys' varsity soccer has been kicking the competition this season.
Since their first game, Liberty boys' varsity soccer has found themselves at the top of KingCo 3A, and as the spring season quickly comes to an end, it's very likely they'll find themselves fighting for the championship.
"It's the best team I've seen since I've been at Liberty. The team has felt more like a family than any other year," senior athlete Alex Boster said.
This year's team dynamic has played a large role in dictating the season's attitude. In fact, Boster was not the only athlete to describe the team as close-knit.
"We're always smiling and having fun together as a family," freshman athlete Kensei Sugitani said. "We still don't know what's gonna happen at the end of the season, but we're pretty confident."
Liberty boys' varsity soccer coach Darren Tremblay is equally as enthused with the team's chemistry.
"This is the most enjoyable group of guys I've had in a long, long time," Tremblay said. "We've had good players before but never this level of cohesiveness. Never with this leadership and good culture. I don't think I've had a kid miss practice, which is unheard of. Every day, even if they're injured, they're here."
All that practice appears to be paying off as the team is currently ranked number two in KingCo 3A, second to Mercer Island. But beyond their dedication to training, what makes this team stand out?
"There's a lot of talented players, many of whom play year-round at a higher level," Tremblay said. "That's probably the main reason for our success."
Even so, their accomplishments go beyond year-round soccer commitment. The team spends hours practicing elaborate set plays to gain an advantage over their opponents. It's this attention to detail that has heavily contributed to their recent triumphs.
"Our defense and counter-attacks are really good, but I think corners and set plays are our best plays." Sugitani said.
For context, a set play is a situation in which the ball is resumed to gameplay after a stoppage, such as a free or corner kick.
"I always tell them, the set plays can be the difference between winning and losing," Tremblay said. "With two equally competitive teams, a lot of times, it's simply the difference."
These set plays have been crucial to the team's success. In fact, Boster estimates that just under half of their goals have been scored from set plays alone. However, being such a competitive team comes with challenges of its own. 
"I think the pressure of being ranked highly will put a target on our backs," Tremblay said. "Our biggest obstacle will be just handling the pressure. It's easy to start thinking, 'oh, you know we can win a state championship,' but if you start thinking ahead so much, you get beat."
Not to mention the risk the team faces should any of their players get injured has the potential to put pause on their goals. And what bigger goal is there than to qualify for the KingCo 3A Championship?
"The rest of the season just depends on injuries and academic eligibility," Tremblay said. "As long as everybody's there and able to compete, we should be at the top, and then hopefully on to state."