Devynn Warns scores a shot at her dream school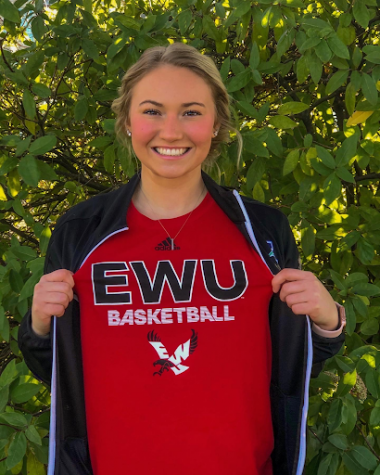 For many seniors, finding the one thing they're meant to pursue after high school can seem like a daunting task. That's not the case for senior Devynn Warns, however, because she has fostered the dream of playing basketball since the age of six; she is now an NCAA Division 1 commit to Eastern Washington University.
Warns described her basketball journey as a "constant uphill" from the very beginning, progressing from recreational to select teams and then eventually to the third-highest ranked basketball program in the nation. In her junior year, Warns was named KingCo conference's MVP. 
"I was at the top of my game," Warns said.
"
The day I was born, my dad said I had the feet of a basketball player. I play basketball every single day, and from the moment he put a ball in my hands to now, that has never changed."
Warns's climb has not been free of obstacles, however. In fact, last year was her first year back after recovering from multiple injuries—tears in her ACL, MCL, PCL, and meniscus—that she received during a basketball tournament freshman year.
But just when things began to brighten up, the Covid-19 pandemic took away her chance to play for the Amateur Athletic Union during the summer—the most important recruiting season for a high school athlete.
With no shortage of personal strength and support from her family, Warns made the best of the situation. 
"I began contacting the schools I wanted to play for, and the relationships I was able to create with college coaches led me to receive offers from teams," Warns said.
It was a dream come true for Warns when she was offered a spot at her first-choice school: Eastern Washington University. 
"EWU was the only school to offer everything I wanted. It was important for me to be close enough to where my family lives so they can come to my games, but far enough away where I get the full college experience," Warns said.
"
Our love for the game is why my dad and I have a bond like no other. He is my best friend."
Despite her resilience and athleticism, Warns shared that her basketball journey would not have been possible without her father by her side.
"I am forever thankful for the countless hours my dad spent in the gym with me, never missing a practice nor a game," Warns said. "It means the world to see how proud of me he is and that he can live his basketball dreams through me."
Five years from now, Warns sees herself as an EWU graduate applying to become a high school PE teacher and varsity basketball coach. Which high school, you may ask? 
"My dream is to come back to Liberty," Warns said.
Well, we'd be lucky to have you, Warns.