Boeing's comeback: post-737 MAX crisis
Boeing has a large impact on the Liberty community. A third of its students are close to people who work for the massive aerospace company. The recent halting of the 737 MAX production line in Renton has impacted many Liberty families. What is the current status of Boeing, and how does this impact our community?
Due to time limitations in design, the 737 MAX was laden with issues, which was brought to light with the crashes of Lion Air Flight 610 and Ethiopian Airlines Flight 302, killing all 346 people aboard both planes. Since these crashes, the 737 MAX has been grounded, and a multitude of complex issues have been found in the aircraft. Boeing halted production of these aircraft until further notice, sending ripples across our community.
Pushing for new technologies, Boeing is seen by many as a company pushing the boundaries of aviation instead of maintaining the status quo. It's what Boeing was founded on, building incredible aircraft for the engineering feat first, and for profit second.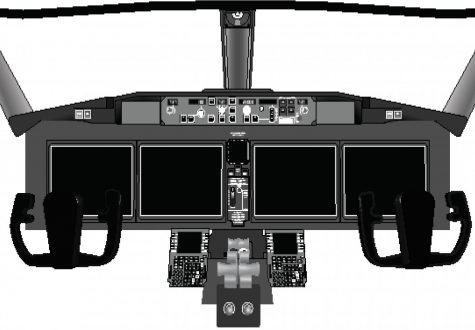 With this success came change, however; many airplane experts believe that the company's priorities began to shift towards one of pushing profit margins over better engineering. When Boeing acquired McDonnell Douglas in 1996, the company's management quickly changed towards pushing profit margins because of the influence of executives from McDonnell Douglas, who were put in place because they lowered profit margins.
Many say that because of this culture placed by ex-McDonnell Douglas executives, Boeing decided to make the move to increase competition with Airbus when Airbus announced the creation of a brand new, more efficient model of their A320 (called the A320 NEO, which fits very similar markets to the 737 MAX). Boeing decided to make large structural changes to their 737 model, which many have determined as the cause of the 737 MAX's avionics and other technical problems.
Despite this analysis, Boeing Test & Evaluation Director for Flight Test in Puget Sound Jeanette Croppi countered that, in her experience, Boeing's culture is one of opportunity
"What I have seen and felt is a strong commitment to safety, quality products for our customers and personal integrity. That culture is strong, but there are always opportunities to learn, grow and develop; being transparent in our learning and successes is integral to growing our culture."
Croppi believes that profits are factors in any business, and must be taken into consideration in order to keep a company afloat. She did not mention a change in culture, as many have ascribed to be the cause of Boeing's problems, but did bring up how the company strives to be efficient while producing aircraft of the finest quality.
"During this suspension we are utilizing teammates' expertise for other aircraft programs around Puget Sound and taking the opportunity to improve our production systems – focusing on improving safety and quality."
Boeing Vice President of Marketing Randy Tinseth agrees.
"Our primary focus is to safely return the 737 MAX to service. To do this, we have developed updates to the airplane software and training requirements," Tinseth said. "We have brought the very best of Boeing to this effort, dedicating all resources to ensure that the improvements to the 737 MAX are comprehensive and thoroughly tested. This effort includes more than 200,000 test hours."
Once Boeing finds a fix to the 737 MAX's problems, Boeing and the Federal Aviation Administration (FAA) will work to outline a schedule for bringing the plane back into service. This will likely include training hours for 737 MAX pilots, keeping the planes on the ground for even longer. Experts suggest that the planes may be back in the air, flown by airlines, in late 2020 because of these setbacks.
As for the future, Tinseth also talks of a new program Boeing is bringing to its employees, the Product & Services Safety Organization.
"The organization will review all aspects of product safety, including investigating cases of undue pressure and anonymous product and service safety concerns raised by employees."
Boeing hopes to resolve the problems of the 737 MAX quickly and safely, and with its core cultural values of safety, quality, and integrity, the company is hoping to recover quickly and build great aerospace technologies for the future.
"I think Boeing and the aviation industry have a bright future," Tinseth concluded. "Boeing has a great legacy going back for more than 100 years and I'm confident with the right people, the right values, and the right products, we can see another 100 years of excellence and quality."