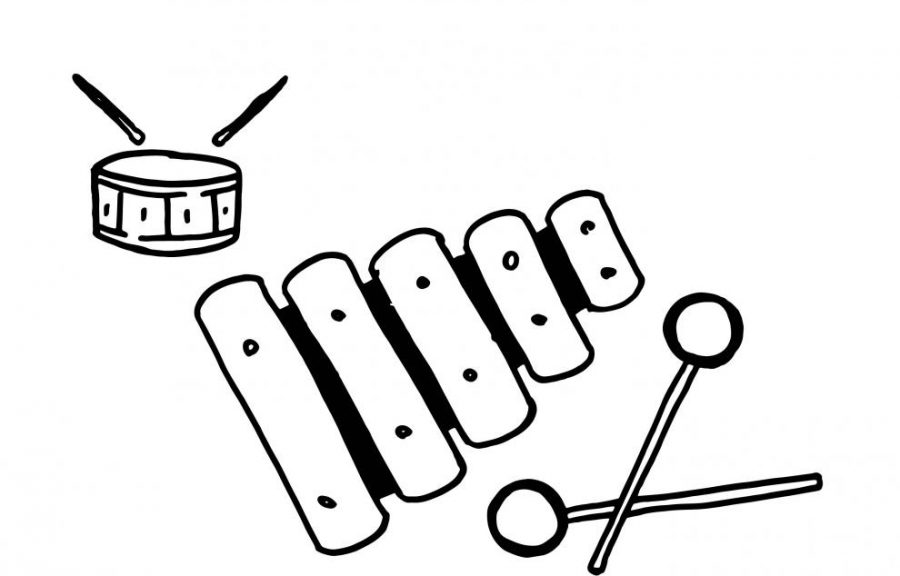 Percussion: Taught by Mr. Tanner
"The percentage of kids who hit things is way smaller than kids that blow on things," percussion teacher Jared Tanner said.
That percentage is ten. There are twelve percussionists in symphonic band this year and eight in wind ensemble, out of 120 total band students. Regular pieces don't have enough parts to satisfy all of them, so Tanner is starting a class exclusively for percussionists to make sure they're all engaged.
"We will have some people who are designated wind ensemble percussionists, and they play on the wind ensemble pieces and are considered members of the wind ensemble. They'll go on the wind ensemble field trips, same with symphonic band," Tanner said.
Percussionists will work on drumline in the fall, then focus on regions of music for the rest of the year, such as African music on marimba.
"I'm hopefully gonna be playing a bit more drumset and maybe some better marimba parts," junior percussionist Jack Poile said.
"I'm really excited to have a specialized percussion class next year. I feel like it'll really give me more room to grow as a percussionist," sophomore Dhruv Chaudhary said.
The new class will hopefully translate to a new and improved group of percussionists in marching band, symphonic band, wind ensemble, and jazz band.