Art: A Community
December 12, 2018
Art has a tendency to gather like-minded individuals and give a place for communities to grow.
For junior Hannah Mattson, who competes as a ballroom dancer, dancing had given her stronger connections to others.
"Dancing has given me a community and a stronger friend group. Each time I dance, I value team aspect of ballroom and how we all are together to dance," Mattson said.
For senior Brian FitzGerald, being a member of a band has also provided this stronger connection to the community.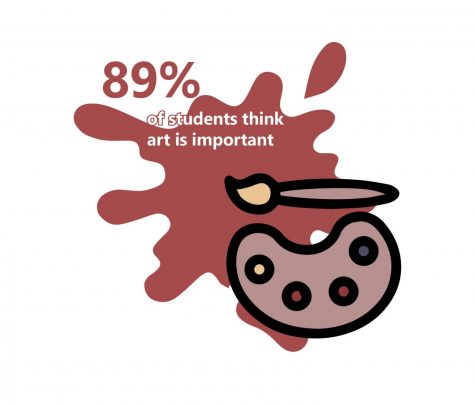 "Music has helped me meet new people and form relationships that I wouldn't have otherwise be able to make," FitzGerald said. "My band, for example, have all become closer though music, and being able to share music with other people and seeing their reaction is just good for me."
Many artists also find a sense of satisfaction from sharing their art with the world. Junior Marco Murillo, known for his dreamy and vibrant drawings, finds this especially true.
"Seeing other people's reaction to my art is really meaningful to me," Murillo said. "When I'm drawing, people like to watch what I'm doing and form a little crowd around my desk in the classroom. It really is just the most rewarding feeling when the person you are making art for is happy with it and will cherish it."
Kostadinov agrees that sharing art can be a rewarding experience.
"When I took senior pictures over the summer, people would always email me like, 'oh these look so good' or 'thank you so much these are awesome.' It is just really nice to see how my work can really influence a whole family," Kostadinov said.