Roarke Hufford receives rare UW Presidential Scholarship
Most college applicants submit their applications with essays, grades, and other information about themselves and their work, but they don't expect the president of the university to read their essays. For the winners of the prized UW Presidential Scholarship, though, they have the honor of having their essays read by the president of the University of Washington. 
Senior Roarke Hufford is one of only 14 other applicants in Washington to receive this scholarship this year.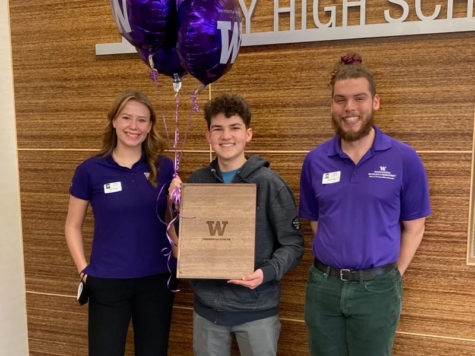 The UW Presidential Scholarship is awarded through applying for admission to the University of Washington. The essays that applicants write are filtered out to determine who will be offered admission, and the best ones are sent to the president of UW to determine who will win the scholarship. 
For his essay to UW, Hufford wrote about his work that demonstrates two important qualities to receive the scholarship: emerging leadership and community engagement.
"The president of UW was inspired by the story I wrote, which was about my journey through surviving cancer and going through cancer treatment," Hufford said. 
According to the UW Presidential Scholarship's website, applicants are chosen for their values and what they have done to endorse them. Hufford's values align with the scholarship's through his philanthropic work. 
"After I finished treatment, I became a patient ambassador for Seattle Children's Hospital, which meant I would speak at events, go to fundraisers and do other events that helped raise a lot of money for Seattle Children's," Hufford said. 
The scholarship has some conditions that Hufford must follow that include having a leadership minor at UW and attending monthly meetings, but the training and the financial benefits he will receive are invaluable to his higher education in whatever career path he chooses to go. 
"I've been accepted into the school of engineering, but I was also thinking of going into finance. I'm not quite sure yet, but the scholarship will definitely help," Hufford said.
Although Hufford did not apply for this scholarship, he has some tips for underclassmen about applying for other scholarships. 
"Think about what your strengths are, what you are good at. Think about things that have happened to you in your life or general parts of your story," Hufford said. "There are scholarships for all types of people."