Senior Cole Barger flies toward his pilot license
While many teens hope to get their driver's license and first car, Liberty senior Cole Barger looked past the roads, believing instead that the sky was the limit.
At a young age, Barger was introduced to aviation by his uncle. They would spend hours looking at and studying different planes together.
"My uncle was always into aviation, and we'd bond through our love of planes," Barger said. "When I became old enough to start training for my private single-engine pilot license, he found a local pilot school and decided to help fund it for me. I finally began when I was 15 years old in February of 2020."
In contrast to getting a driver's license, a private pilot's license has multiple stages of training before one is able to officially get it.
"First, you go through different types of ground school phases where you learn basic maneuvers. In the second stage, which I'm currently transitioning into, you practice those maneuvers, learn more advanced technical skills, and start flying solo and cross-country," Barger said. "Finally, you get to the third stage, which consists of final proficiency practices before the solo checkride under FAA requirements."
The solo checkride is the practical portion of the final exam where one flies with a pilot examiner, similar to a final driving test. It takes hours of practice to even begin flying solo, as well as many more hours of practice before getting to the solo checkride. 
"Most people tend to have about 40 to 60 hours when they get to their solo. I have about 80 hours right now as I'm going into stage 2, so I need to complete a few more hours before I can get to my solo checkride," Barger said. 
As a senior, Barger has to make a decision about where he wants to go after high school, and his passion for flying has guided him to find the perfect college for him.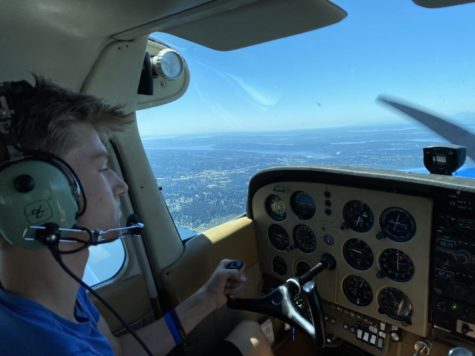 "I plan to go to Central Washington University to do their aviation program. It's one of the only schools in Washington to have a runway there to practice, so it was the perfect in-state college," Barger said. "My plan is to get a career with it, not in airlining or the military, but for specific people and businesses."
While Barger does not have a plane yet, he hopes to get a Cessna 172 G1000, a single-engine plane similar to one seen in the 2009 movie Paul Blart: Mall Cop.
"I like how the Cessna 172 has a PFD and MFD, which are two main screens that you use instead of having an analog setup for your instruments," Barger said. "It's all digital, which is much nicer and easier."
Although Barger hasn't gotten his license yet, he's been able to take to the skies many times during his training.
"I love the experience of getting to fly around Washington; seeing everything from up there is great," Barger said. "When we land at different airports, meeting the people is amazing. They are serious about their career, so talking to them is always interesting." 
Throughout the training experience flying in the sky, Barger has made memories not just with his instructor but with his mom as well.
"We took my mother up for the first time and decided to 'power-off stall', which is to pretend to stall the plane in the event of an emergency," Barger said. "The catch is, we didn't tell her that we were going to do that, so hearing her screams on the intercom while we flew up and down in the air was great."
Barger enjoys the freedom of flying, and he hopes to get his pilot license soon, possibly by the time he graduates.