High School Musical 4: The Netherlands edition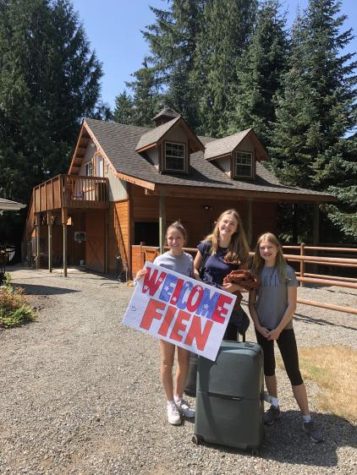 When most people want to spice up their lives, they dye their hair or get a piercing. For Josefien Dehass, her ideal way to spice up her life is to move across the world. Alone.
Dehass is one of only two foreign exchange students here at Liberty. She traveled all the way from the Netherlands to the United States and is now staying with Cianna Dopps, a student here at LHS. She is now excited to be spending the next year with Dopps, a senior, and her family.
"Life with my host family is amazing," said Dehass. "They are the absolute best people. I feel so at home here and I am really enjoying it!"
Aside from the new people she's met, Dehass is enjoying the many other experiences in America, such as the Starbucks on every other street, and the multitude of Targets. Best of all, however, is being in the country where the one and only High School Musical was filmed.
Journeying to Washington from the Netherlands is quite a big difference. Not only has Dehass been exposed to thousands of new people, but she's also exposed to a whole new physical environment as well.
In the Netherlands, the legal driving age is 18, so it's been weird for her to see 16 and 17-year-olds driving to school every day. It's been especially odd for her to be in a country with a population of 330 million when she used to live in one with a population of 17 million. According to Dehass, everything is much farther apart than she's used to. 
"I miss the independence in the Netherlands. Since the country is a lot smaller and flatter, you can bike almost everywhere. If you needed to travel somewhere far, you'd just travel via bus or train. Nobody needs a car to go anywhere, compared to here, where everyone needs a car," said Dehass.
Even with that longing for independence, though, Dehass is still finding unique things here that have been making her experience worthwhile.
"America definitely exceeds my expectations. Everything is so big here, like the fast-food restaurants, the American flags everywhere, and the Targets I'm always seeing," said Dehass.
Despite all odds of traveling to a different country alone during Covid, Washington has treated Dehass well. Best of all, she's one step closer to living her High School Musical dream. Next stop: East High School to become a true Wildcat!