Meet the new dogs of Liberty's students and staff!
Liberty students and staff share about the dogs they have gotten in quarantine.
Sophomore Neha Suresh's dog Coco is sneaky but easily scared
"She's almost a year old and is a golden retriever and poodle mix! My family decided to get Coco because we had a lot of free time. We've always wanted to get a dog, and the timing just worked out! She likes sitting in our rooms while we work and sneaking around. She has learned how to walk up the stairs without making any noise, and sometimes she'll just show up on my bed. She's also scared of EVERYTHING," Suresh said.
Junior Ashley Kirschner's dog Laney is social but has serious attitude 
"She is four months old and is a black goldendoodle. We got Laney because my siblings are gone, and now I can handle her as a puppy before I graduate. She enjoys hikes, trips to the lake, and frisbee in the backyard. She has a serious attitude and pees when she gets too excited. She's a huge people-dog and loves ear scratches," Kirschner said.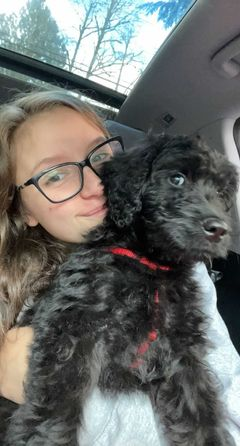 Junior Juli Malit and freshman Jun Malit's dog Codi weighs only five pounds and loves Disney movies!
"My family has wanted a puppy for a while, so on Christmas we finally decided to get one! Codi has a black and white chevron pattern and is 5 pounds!  He used to be smaller than the arm's length he is now. Since he's so small, he has only barely learned to jump up steps this month. He hasn't learned how to get back down though, so he panics halfway through his zoomies. Codi likes walking all over my keyboard and watching Disney movies. He sneezes at us when he wants to play—it's his little warning step before he does a real bark. Naps together are also an A+," Juli Malit said.
Freshman Madelaine Bascao's puppy Ponyo is tiny, chubby, and a tad bit dramatic 
"Our parents decided to surprise us with a puppy right before New Year's Eve. His name is based on my all-time childhood favorite movie. He is a shih tzu and has golden and white fur. He is very tiny but also chubby because he loves eating way too much. One time he was put in his playpen, and he wanted to be set free, but we didn't let him out at the time. Ponyo noticed this, so later he threw a tantrum and jumped into his toy box. And when he couldn't get out, he started barking for help," Bascao said.
English teacher Kristen Daughters' puppy Quincey loves food, even when it isn't hers!
"Quincey is a yellow labrador who is 17 weeks old and 17 pounds. She was only five pounds when I got her six weeks ago. She sleeps about half the time. She's simultaneously this little angel-dog who cuddles with me but also a little devil-puppy. Quincey is a huge 'food pig'—she loves her food. She's a little sister to Chloe, who is a black labrador I have (who she loves playing tug-of-war with). But, if I put Chloe's food down, Quincey will scarf it up before Chloe can even eat any of it. Most labs have their meals gone in about 90 to 120 seconds, but Quincey is even more aggressive. She's a sweetheart, and I'm really happy to have her join my canine family," Daughters said.