Dr. Hines on the frontlines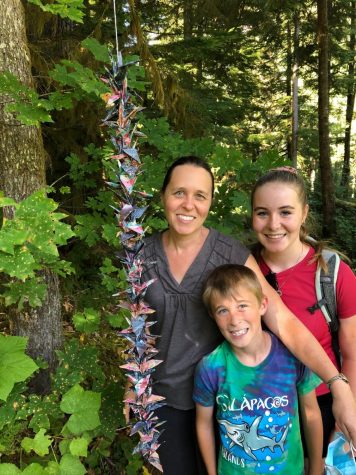 "Often, I feel like many of my peers who demonstrate a blatant disregard for social distancing don't understand what a sacrifice the health care workers are making. Every day, I see my mom risk her safety in order to save others," sophomore Rachel Hines said. 
January 21 marked the one-year anniversary of the first Covid-19 case in Washington, and ever since then, Rachel's mother has been working in direct contact with Covid-19 patients in a local hospital. In fact, many of the first cases were in local hospitals around Renton where Dr. Jennifer Hines works. 
Both Rachel and her mother remember feeling afraid the first week Covid-19 cases began rising.
"At first, it was terrifying because we were dealing with an unknown disease with very little knowledge of what to do to help people," Dr. Hines said.
Seeing her mother go through these hard times, Rachel shared similar emotions.
"There was so much fear, and no one had any idea what we were dealing with," Rachel said.
The chaos and confusion of the first few weeks caused stress in Dr. Hines's work life and her family life; she could no longer separate home life from work and had to take extra precautions to keep her family safe.
"I would enter my house through a back door and change and shower before entering the rest of the house. Since everyone, including my husband and kids, were staying home, I knew that I was the only one that could potentially bring the disease to our house," Hines said, recalling the early months she spent helping in the hospital. 
Even though Dr. Hines is now vaccinated, the fear of losing her mom still makes Rachel worried. 
 "Of course I'm scared," Rachel said. "Knowing my mom is directly dealing with a disease that has killed 475 thousand people in the United States alone is terrifying." 
Many people cannot fully understand the impact of being a frontline worker. If there was one thing Rachel could say to others, it would be to listen to healthcare workers. 
"People constantly say 'appreciate our healthcare workers,' but then turn around and unnecessarily expose themselves," Rachel said. "If I was to tell them one thing, it would be to please, please, please social distance and follow safety protocols. Everyone is tired of this disease. The doctors are tired. But that doesn't excuse irresponsible behavior."