Patience and paws-itivity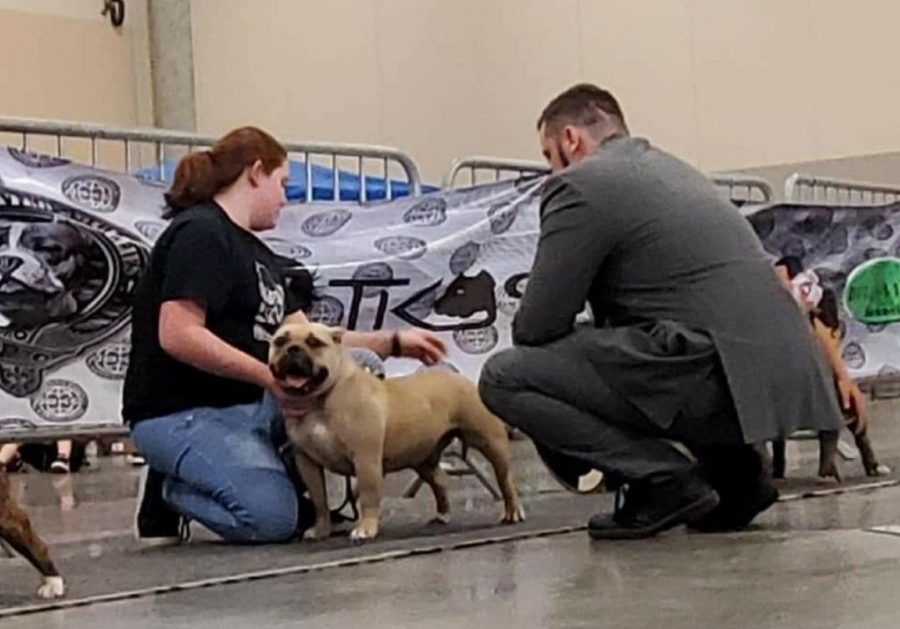 It's a Saturday afternoon, and after hours of bathing, feeding, and preparing, sophomore Dawn Pachenker proudly shows off her American Bully, Moxy, to the judges at the United Kennel Club. Moxy waits for Pachenker's command, and together they walk the ring, arousing applause from the crowd.  
While this may seem like an abnormal activity for a Saturday to the average teenager, these weekend competitions are nothing new for dog handlers like Pachenker. For her, it's a passion. 
"I'm a dog handler, meaning I train and prepare dogs for competitions, which I love," she said. 
Pachenker's enthusiasm for handling started five years ago when her family decided to buy a dog to show at competitions. She learned the rules and tactics for dog competitions through friends and YouTube, but Pachenker has always had a natural connection with dogs. 
"My passion for handling really stems from my love and bonds with my own dogs. They've become my best friends!" Pachenker said. 
The bond between a handler and their dog is especially important during competitions. During these competitions, Pachenker shows her dog to the judges. Her dog is then judged by his/her physical attributes, movement, and personality. 
"I have to do a lot of training to prepare the dogs. I teach them commands and how to stack, which is basically how to stand in the proper position," Pachenker said. 
While Pachenker has taught her dogs many lessons, they've taught her valuable lessons as well.
"Patience is definitely the number one thing I've learned; you've got to be patient with your dogs," Pachenker said. 
Pachenker's patience has definitely paid off as she went on to win the best junior handler at the United Kennel Club and was invited to the Junior Handling Premier. So, while many teens spend their weekends sleeping in, Pachenker is doing what she loves the most—being with her dogs.