Katie Harris finds comfort in creating characters
It's 3 PM, and after a tiring day of online school, junior Katie Harris pulls out a pencil and some paper and begins to draw. As one line is drawn after the other, the sketch begins to take the shape of a face with pointy ears, silver hair, and striking blue eyes. The sketch is of Damien, a character from an original species designed by Harris herself. 
Since 2016, Harris has spent the majority of her free time creating an entire fictional world with her own fantastical characters. But Harris doesn't just stop there. Complete with unique countries that have different cultures and politics, Harris's illustrations are one-of-a-kind.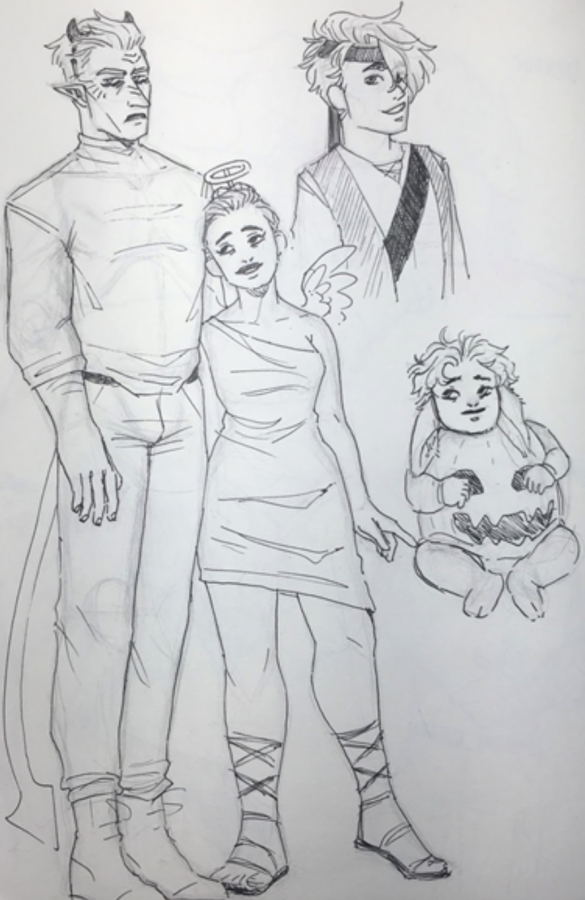 The characters in Harris's fictional world are part of three different species. The Chibalans are people with pointy ears and silver features. Harris has also created Alemors, characters with animal features. Finally, there are Sathanins, a species very similar to humans. In this world, race is not dictated by skin color, but instead by physical features.
In addition to being a fun pastime, these drawings have provided Harris with a valuable outlet for her emotions.
"Drawing gives me a way to express my ideas and emotions. Whenever I see something that inspires me, I can pour out my thoughts and ideas on paper," Harris said.
Harris's love for drawing started in fifth grade when she began imitating Five Nights at Freddy's illustrations. Now, after years of hard work, she has developed her own unique artistic lens. What began as a simple hobby soon grew into a passion and love for art, fantasy, and world-building.
"Art isn't just drawing to me: it's storytelling. Every one of my characters has distinct personalities, emotions, and special quirks," she said.
Through these illustrations, Harris has learned lifelong lessons of kindness. By creating this fictional world, Harris is spreading happiness to whoever sees it. With the tense environment of today, simple acts of joy are needed more than ever.
"In my world, I can decide how my characters interact," Harris said. "In the face of all the hate and violence in the world, it's given me a better glimpse into what it means to treat people with kindness and love."
While many things in Harris's life will shift and evolve, she will always have drawing as her anchor. To Harris, these characters are family.
"I would compare it to how people have a comfort food; I have comfort characters," Harris said, "As I draw characters or aspects of my fictional world, I feel a sense of peace and happiness."