Emma Mattson waltzes through life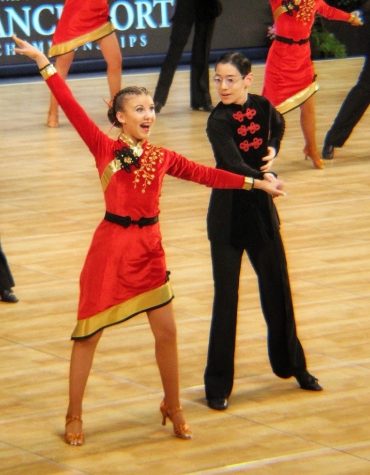 Most days, when she's not doing schoolwork,  you can expect to find sophomore Emma Mattson ballroom dancing.  
A popular activity for recreation and competition, ballroom is a formal set of partner dancing that features a series of European folk and Latin American dances. The appeal, and what drew Mattson in, comes from the vibrant costumes, alluring music, and passionate calculated moves. 
Mattson and all three of her sisters' ballroom dance competitively at Pacific Ballroom Dance in Auburn. Mattson got her start in ballroom dancing a few years ago after seeing her older sister, Hannah, perform. At the time, Mattson was involved in ballet lessons, which she liked but wasn't passionate about. 
"I saw how much fun it looked when my sister was performing, and I knew I wanted to start ballroom dancing too," Mattson said. 
Since starting, Mattson has joined a competitive team and helped her team win first place at nationals. But the most important thing to Mattson has been the family she's built through ballroom dancing.
 "I have made friends that I will keep for the rest of my life because we all share the same love for dancing," Mattson said. 
Mattson and her team spend two hours, four times a week at dance practice to perfect their routines. All those hours spent together have helped her build tight bonds and have taught her many valuable lessons. 
"Being on a team helps me get through challenges in differences of opinion or beliefs. It is very special when we can all come together, in our differences, and create something beautiful to show people," Mattson said. 
While the team bonding is fun, competitions are no walk in the park. Ballroom dance competitions are held nearly every month, and they can last from one to four days long. Competition partners choose what events they want to participate in, and couples and the other competitors are split up into heats. Partnerships compete against other partnerships in heats with dances such as cha cha, rumba, Pasodoble, waltz, foxtrot, tango, and Viennese waltz. 
"The stakes get raised the further you advance, so always improving to stay ahead of the competition is probably one of the hardest parts," Mattson said. 
But to Mattson, all the hard work and competitions are worth it. Performing in front of a crowd with her team, the lights, music, and costumes make every dance remarkable.
"It's truly a magical experience to put a lot of blood, sweat, and tears into a performance and achieve your goals," Mattson said. 
This year, however, COVID-19 has drastically changed dance for Mattson. In March, she and her team had to be flown home early from nationals. They weren't able to finish the competition, but they were given second place for their qualifying performance. The company also had to do their end-of-year concert virtually.
"It was devastating to have to come home early from nationals. Now, we are back at dance, but things are different. I have to have my temperature taken before I come in, and there are other strict rules," Mattson said. 
While many things are changing within the dance world, Mattson's love of performance and her teammates will never change. Despite it all, Mattson plans to keep dancing.