Marques Pizarro takes fitness goals to the next level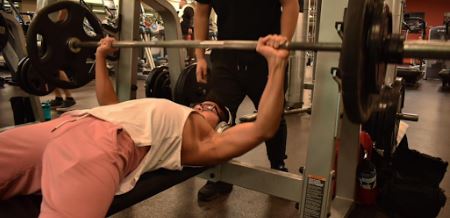 "Instagram fame" is still a fairly new concept in the modern world, even to our generation. We can scroll through the app and see the people we follow selling clothes, shoes, tea, teeth whitening kits, and much more with just one flick of the finger. But Liberty senior Marques Pizarro isn't using his social media platform to make money—he's using it to improve the physical health of himself and others.
"As a kid back in elementary school, I was known for being slow and chubby," Pizarro joked. "I ate a lot of food, and it turned out to be bad in the long run."
Pizarro explains how getting cut from the school basketball team as a kid motivated him to get in shape.
"I got into lifting weights because I was really passionate about getting better," Pizarro said. "I thought personal training would be a great thing to do because I wanted to help people get out of the rut that I was in."
Pizarro uses his Instagram account to inspire others in a positive way. He posts pictures of himself working out, adding captions that explain how to go about performing the activities shown. He adds posts to his instagram story picturing everything from his meals to his philosophies about how he continues to inspire himself to be active. Not only does it give details about his workout plans, diet, and motivation, but it also shares information about how you can work with him to get into shape.
"Out of all the guys we train with, he's the most positive and encouraging," senior client Dylan Kostadinov said. "He's with us the entire time we're working out, giving us advice and motivating us."
Junior Andrew Tomoiaga agrees.
"Marques is a super motivational person," he said. "He pushes you to improve within school, fitness, and life in general."
While many of the people Pizarro works with are his close friends, he adds that he's open to training with anyone who may need help in the world of fitness.
"Anyone from any level of performance or any athletic background is welcome," Pizarro said.