Mackenzie aces the tennis season
With the sun beating on her back and sweat dripping down her forehead, junior Mackenzie Cung bounces the tennis ball, once, twice, three times. She throws it up and quickly swings down, serving the ball to start the match. 
"I began playing when I was eight or nine," Cung said. "It didn't have much meaning at the time–I only started for fun."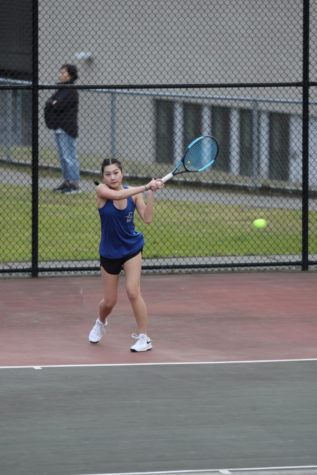 When she was little, Cung played basketball, soccer, and did swimming, but none of these sports resonated with her. Tennis was different. 
"My dad put me in tennis lessons, and I began gravitating towards tennis and found that I actually enjoyed the sport," Cung said. 
Cung decided to continue playing and still takes lessons today. Aside from playing on Liberty's varsity tennis team, she also competes outside of the school season.
"I do various USA tournaments whenever I feel like it," Cung said. "I'll play doubles with my friends for fun and for practice."
As for the Liberty season, Cung is ranked number one on the Liberty girls varsity tennis team and plays as the top singles player during matches. 
"I definitely prefer singles over doubles because I grew up playing that way, and I know myself best," Cung said. 
Cung continues to represent Liberty well even though she doesn't enter the building unless for indoor practice. 
"Tennis works really nicely with full-time Running Start because I can pick whatever classes I want to take and make them work around tennis," Cung said. "My classes are in the morning and I play tennis in the afternoon, so it coincides really well."
Even though she doesn't attend Liberty, the tennis community is filled with joyful people who have made it a warm, welcoming environment for her.
"The team is really great. I've made a lot of connections and friends that I wouldn't have made by simply being at Liberty," Cung said. 
Currently, the Liberty team is ranked sixth in KingCo. The team and Cung have big goals for this season and they are working hard to accomplish them. 
"I hope we make it far in Districts and maybe have a chance at State," Cung said.
Tennis coach Carola Dopps continues to push the girls to hopefully achieve these goals despite being in a competitive district.    
"There's always going to be girls out there who are better than you so it's not always about winning. It's about knowing that there's always an opportunity to compete and grow," Dopps said. 
Dopps knows the girls are capable of accomplishing this, especially Cung. 
"Mackenzie has grown a lot," Dopps said. "She used to be really anxious on the court but now she's standing her ground and whipping each ball as hard as she can." 
Cung continues to work hard and push herself on the court. She knows she can improve and is willing to put in the effort to get there. 
"Mackenzie is one of those people who has learned how to fight and have fun at the same time," Dopps said. 
The team continues to support and push each other to do their best. Cung is determined to grow and give it her all each match.
"I wanted to pursue tennis when I was little," Cung said. "Now, I really just want to have fun and make younger me proud."