Liberty lacrosse has got it handled
They've slid past Liberty's radar for years, but the Liberty Lacrosse Club is making a name for itself this season.
Although it is not a school-sanctioned sport, the Liberty Lacrosse Club has been running for years, recruiting athletes through word of mouth in the Liberty area for both youth and high school teams.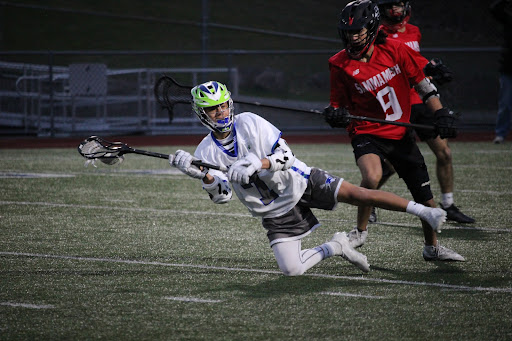 "Liberty Lacrosse Club was established in 2009," coach Christopher Castleberry said. "The program is led by a board of volunteers, following rules set forth by the Washington High School Boys Lacrosse Association for high school and the Greater Eastside Lacrosse League for our youth teams."
The Liberty Lacrosse Club has shaped countless Liberty athletes that represent the Liberty name proudly. Captains junior Eric Abel, sophomore Wyatt Patten, junior Garrison Hanses, and senior Nolan Townsend are all prominent players that have led the team to success this season. 
"One of my family friends recommended trying lacrosse to my mom when I was in kindergarten and once I picked up a stick, I couldn't put it down," Hanses said. "So, I started playing for the Liberty program in first grade."
Having spent years with the Liberty Lacrosse Club, Hanses has also learned about the history behind the sport, including its important roots that Coach Castleberry teaches to his players.
"Lacrosse is the fastest growing sport in the United States, but it is also the oldest," Castleberry said. "Lacrosse was first played by Native Americans centuries ago and continues to carry the traditions and principles of honor and respect bestowed between all who play."
The team has honored the sport's principles adamantly this season, and it's led them to their first league victory since 2019 with hopes to compete in another State title. This victory over Sammamish's lacrosse team was vital for the team's morale.
"It was our first win that got us on track, and that's when we started playing well as a team," senior lacrosse player Noah Norton said.
Their teamwork has significantly improved since their recent victory, but each game gives the players an opportunity to learn and improve more. 
"This is the first year I've ever played, and I've stepped up to be the goalie," Townsend said. "I'm in a difficult position, so I gain knowledge with every game." 
Lacrosse itself is often seen as a dangerous and aggressive sport, but the players attest to the fact that the fun they have outweighs any negative aspects.
"If you don't mind some bruises, it's all positive," Norton said.
So, whether it's supporting the Liberty Lacrosse Club by watching a league game or trying out for the lacrosse activities that are offered in the fall and winter, come and cheer on the Liberty lacrosse team this season.
"Lacrosse is a relatively young program that has already developed a culture of hard work and success," Castleberry said. "Our student-athletes play with school pride and want to bring a title home to Liberty."