Wrestling with team mentality
Wrestling is one of the many sports that requires hard work, dedication, and mental toughness in order to succeed. But are those the only qualities that define our team here at Liberty?
Each player experiences individual struggles within the sport. Both junior Austin Fong and sophomore Jacob Soeprono agree that the hardest thing in wrestling is the mental aspect of the sport.
"You're competing against another person by yourself and, whether you win or lose, that's on you," Fong said.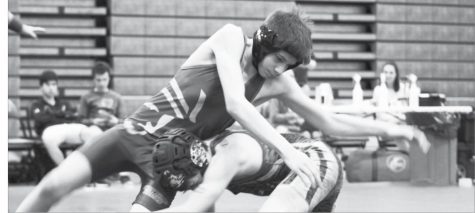 The team has managed to fight through the difficult parts of wrestling, and seem to be improving greatly.
"We had a little rough patch, but are doing much better now," Soeprono said.
The team continued this improvement at state on February 22 at the Tacoma Dome.
"I feel like every year there are some moments that stick with us more than others," Fong said.
The team has a strong focus during competitions, but they aren't afraid to occasionally let loose during practice.
"Our team plays games like dodgeball and laces—you try to touch another player's shoe laces until there is one man standing," Soeprono said.
"All the wrestlers find themselves bonding with each other because of all the time we spend together. Last year, we tie-dyed our clothes after practice," Fong said.
Although wrestling is considered an individual sport, this doesn't make Liberty's competitors any less of a team. Liberty has fought together to finish yet another great season.