Flip into the fun of practice with gymnastics
Gymnastics practice is all about training and flexibility. But who knew practice could be so fun?
The ladies of Liberty's gymnastics team may focus on their individual goals and getting ready for meets, but on Fridays they tackle a different goal: team bonding. Fun Practice Fridays take a different approach to team building and strength training, and allow the girls to learn more about each other, sharpen their skills, and have fun.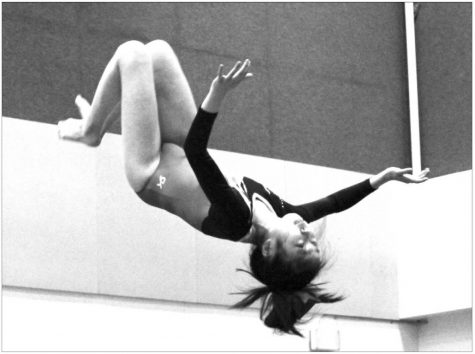 The tradition originally started when then head coach Hannah Bergam couldn't make it to practice on Fridays, so the girls needed to pass the time. Years later, Fun Practice Fridays have remained, and turned out to be a great opportunity for bonding. They have become memorable for the girls, with activities like Zumba and musical chairs.
"We've done the Cha-Cha Slide, partner yoga, and other games. My favorite is The Floor is Lava, where we lay down gym mats and jump around," team member Trixie Nguyen said.
In addition to being enjoyable, the practices are a unifying experience for the team.
"The team has become a lot closer this year. We've become comfortable with each other thanks to practices like those. Most of us wouldn't know each other, being from different grades, but we get to learn about what our interests and goals are, which helps us bond," team captain and four-year member Kelley Ferrera said.
"When I first started gymnastics, I knew no one. When we had these practices, I felt the team strengthen. We had more fun together, laughed a lot more, and we shared more experiences together," Nguyen added.
Fridays also allow for a balance of fun and hard work, where the girls can learn about the sport.
"Even if you've never tried gymnastics, it's a really fun environment to be in," Ferrera said.
Regardless of their personal experience with gymnastics, the team works together to develop their skills and form great bonds.