Boys swim and dive: a second family
We all know that teamwork makes the dream work, but just how important are the connections between team members in order to succeed?
Take senior Warren Briggs, for example, who has won countless awards during his time as a swimmer. He believes that the family culture of swim and dive is vital for him to compete successfully.
"It promotes greatness from yourself to know that you aren't only swimming for yourself, but for the whole team. The hit of adrenaline before you compete is an incredible feeling," Briggs said.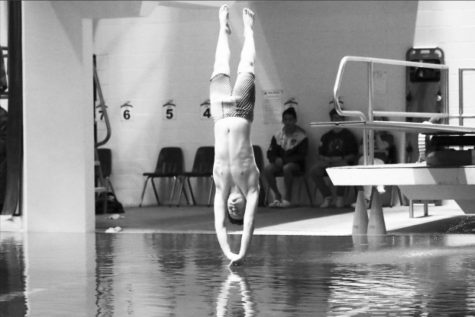 But just how far does this bond between each individual on the team go? For freshman Jacob Clay, he knows that in order to succeed, every individual must have a loving group behind them.
"Everybody supports you when you're swimming. They just cheer you on. All of our practices and parties also make you feel good and lift your spirits," Clay said.
Clay also described how caring the upperclassmen were, which creates an unbreakable bond between the members of the swim and dive team.
"They're kind of like a second family. The seniors are all really helpful, and the captains try their best to help you improve and help with anything you need," Clay said.
As swimmers, both Briggs and Clay find themselves working for hours on end to showcase their swimming abilities in just a few minutes.
"It takes up all of your time after school, but it's fun and it's definitely worth it," Clay said, when asked about the hardships of being on the swim and dive team.
"There's certainly a concept that at any time, you have to give your 100%," said Briggs. "It's an unrelenting force that causes us to stick together to better ourselves."