Despite change in coach, softball perseveres
Not many coaches get their main entrance onto the field as head coach via an overnight call from the school's athletic director.
But such is the case with Nicole Kellar, the new head coach (former assistant coach) of the girls softball team, who took over after the previous coach was let go. The call somewhat of a shocker to Kellar, she now aims to help the team to succeed despite their recent trials with adversity.
"I felt like it was the right thing to do to make sure the girls could continue on with their season and finish strong," Kellar said.
Although the team has had to deal with much uncertainty and change through the season, she believes that they will come out strong.
"Through the last few weeks, the team has been able to persevere through adversity—one of the most important qualities an athlete can have—and the team has shown fortitude, which is really great," Kellar said.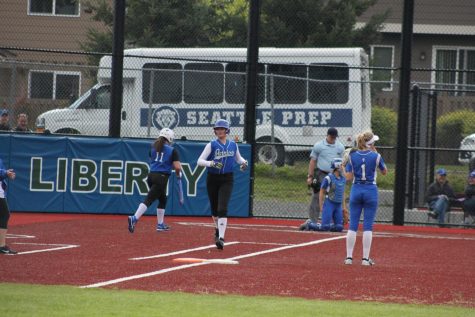 Many in the team believe that the change in coach has been for the best and will lead towards a bright future for the team. Junior Samantha Garcia, an avid player, agrees.
"Kellar's stepped up to the plate in the transition (no pun intended!), as we're doing more skill drills and practicing of technique. She's really done a good job, considering the circumstances," Garcia said.
Some also see the expertise Kellar has brought into the team and hope it will help in the future. Sophomore Milan Coate believes this will help much in the coming seasons.
"She's a really good coach, as she knows how to give us good tips to help us with the game," Coate said, also describing how Kellar's methods can be similar, yet different from those of the previous coaches.
As for the future, Coate hopes to see more wins—as the team has a has a record of 4-8, hoping to improve—and Garcia hopes to see the team make it past districts vin this season and in seasons to come. As a young team with new coach, the team has promise, and has room to grow in the coming years. Whatever happens with the team, good or bad, one thing's for sure: Kellar is here to stay, and she will do her best to lead the softball team to victory.