Can I kiss you… again?
Last March, the "Can I Kiss You" assembly came to Liberty High School. Speaker Mike Domitrz charmed the audience with his positive attitude and free merchandise. Making his return this November, students, and staff share their opinions on both the assembly and speaker.  
With bright lights beating down and judgmental eyes peering up at him, speaker Mike Domitrz prepared to ask the hundreds of students watching him one simple question: "Can I kiss you?"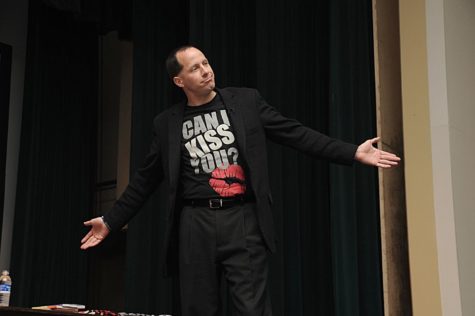 Last March, Domitrz challenged dating norms and courting spontaneity as he expressed the dangers of sexual assault and the importance of consent to the Liberty student body. 
"I loved the assembly," senior Katie Peffer said. "Even though someone might make a joke of it, it's making people aware of what a healthy relationship is." 
Domitrz speaks in over 70 cities across the globe each year and has impacted over 300,000 students through his school assemblies, including sophomore Greggory Shine. 
"He really opened something up to me because I didn't realize sexual assault was such a serious topic," Shine said. "He made me realize how big it can truly be and how it can happen to anyone." 
According to a poll of 70 students, 87% are excited about attending another assembly on Friday, November 18. However, the other 13% share the opposite views of the past assembly. 
"The people who needed to take it seriously and take in the information, weren't paying attention in the slightest," an anonymous Liberty student said. "The speaker felt out of touch with us." 
Regardless of critics, Domitrz was one of only five speakers to be inducted into the National Speakers Association Hall of Fame in 2022. He was noted to present important information in a passionate, inclusive, way which was appreciated and memorable to many students. 
"As a queer person, I really liked how all the information was presented in a way that wasn't just focused on cis-gendered and heterosexual students and relationships," an anonymous Liberty student said. 
Consent is an important topic for everyone, including the Liberty staff, who share many of the positive opinions in regards to the previous "Can I kiss you?" assembly.
"I think it's always good to hear this assembly because students don't understand the seriousness of sexual assault," health teacher Donna Abbey said. 
The district strives to make the assembly an annual occurrence so Liberty students will hear this message multiple times before they graduate. 
"Every high school in the district is getting this assembly because, as a secondary group, we felt it was important for kids to get this message," Principal Andrew Brownson said.
Brownson has worked with students who have experienced sexual assault and he recognizes the importance of communication and consent in healthy high school relationships.
"I hope that the assembly will help students navigate the tumultuous waters of relationships where there isn't a lot of training provided," Brownson said. 
Relationships can be messy and dangerous if they are unhealthy, and unhealthy relationships can lead to sexual assault.
"It's important for kids to know about consent going into relationships because all relationships should have a healthy baseline," Abbey said.
Domitrz has helped many Liberty students begin to recognize the significance of consent in high school relationships.
"People I know still follow Domitrz," an anonymous student said. "There's a reason why." 
Annual assemblies and required health classes will continue to establish the message of consent each year. 
"There are two lessons students have to go through before they graduate: sexual assault crimes and HIV/AIDS prevention," Abbey said. "The assembly helps reiterate that." 
Brownson aims for the assembly to lead to students making more thoughtful choices, and hopes the message will continue to be well received.
"I'm hoping some of the messages that were communicated were internalized and then lived," Brownson said.