Liberty clubs create student connections
Liberty students are spending more time at school than in previous years. No, not because the school day is extended, but rather, a record number of Liberty's students are participating in clubs. Key Club, Baking Club, and Model United Nations (MUN) have especially seen a dramatic increase in members this year.

"
Key Club's increase was astronomical. I can remember meetings where they had ten kids, and now there are over a hundred of them in the commons."
— Michelle Munson
"MUN is a young club, so it's crazy that we've grown from seven people, which was only our officers, to 27," MUN President Jherica Paulino said.
After over a year of isolation and not being able to go to school in person, it seems students are eager to come back and meet new people through shared interests in clubs.
"I watch a lot of freshmen trade phone numbers when they meet new people," Baking Club President Amy Lee said.
"One thing that happened with quarantine is that students found interests that they were passionate about, and some of that passion has bled into the clubs," Munson said.
In addition to the increase in club participation, there have been many new clubs that were created or restarted because of the requests of students. Book Review Club, Badminton Club, Celebrate Your Culture Club, and Chess Club all could not have meetings in-person last year but have started again this year.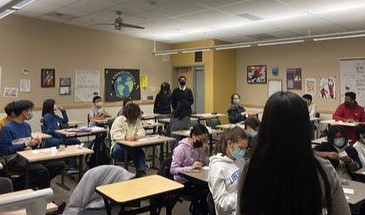 "At the start of the year, we expected a small number of participants, but people are trying to get involved. They need that social interaction, and that's what school provides other than academics," Chess Club President Leo Fan said.
However, there is also a huge challenge that comes with this increase in club participation. This year, there has been a shortage in staff members and teachers who can supervise clubs.
"Right now, teachers' bandwidths are really tight, so finding advisors willing to spend that time to advise clubs is hard," Munson said.
Club officers and advisors are excited to hear that more students are participating in clubs this year than before, but the future of their clubs and continuing this level of participation is also on their minds. They have thought of many ways to increase club participation.
"Having proper advertising and showing off that you can make friends within these clubs and expand past your friend group will encourage students to continue attending," Lee said.
"I don't want Chess Club to die the moment I leave high school because it's about creating that memorable impact. To create a substantial impact and hopefully grow an actual culture in my high school would be amazing," Fan said.