Liberty takes third in navy academic championship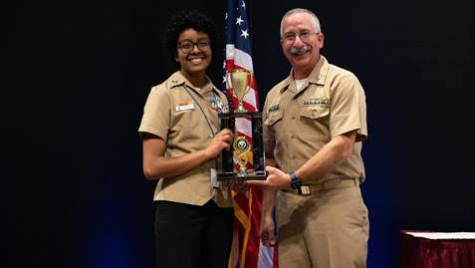 In an NJROTC national tournament featuring over 800 teams, it would take a 0.003% chance in order for a school to finish in the top 3. On July 26, Patriot Company, Liberty's NJROTC Academic Team, accomplished just that. They earned their way into that slim percentile while finishing third in the nation in the Level III JLAB Championship in Washington, DC.
The first Patriot Company team to ever qualify for nationals consisted of senior cadets Ryan Croasdell, Sanjana Addanki, Kaitlin Lew, and sophomore Eowyn Ream. The cadets, led by Chief Mathew Spears, walked away from the event with success and pride.
"The trip was really stressful because there are a lot of moving parts, but the trip was fulfilling and very rewarding," Ream said. "It's very easy to underestimate yourself. By the time you are competing and are actually there, you feel like you haven't really earned it, but you have."
While successful in the end, the cadets struggled during the initial rounds of competition, lacking confidence after being dominated in the first two rounds of competition against the defending national champions and runner-ups from the year before. 
"The cadets are very, very smart. There is no lack of intelligence from them at all, but they did struggle to adapt to the gamesmanship of the competition once we were there," Spears said. "They didn't quite know when to hit their buzzers in speed competitions to answer questions, but once they understood the game, they were a force from there out." 
Perhaps "keep your head up" is the proverb to take away from Liberty's NJROTC tournament success. 
"Keep your head up is what I took away. We were getting knocked around pretty hard initially, but were still able to finish strong at third," Addanki said.