It took a pandemic but it's finally happening: Liberty's stadium renovation underway
When we go back to school, safety precautions won't be the only changes. There will also be a newly renovated stadium for students to enjoy.
         The stadium renovation has been a multi-step process; the first phase of the renovation began with the construction of the new home grand-stands in 2016.  This past spring, construction on the next phase in the renovation began and has continued throughout the Covid-19 quarantine.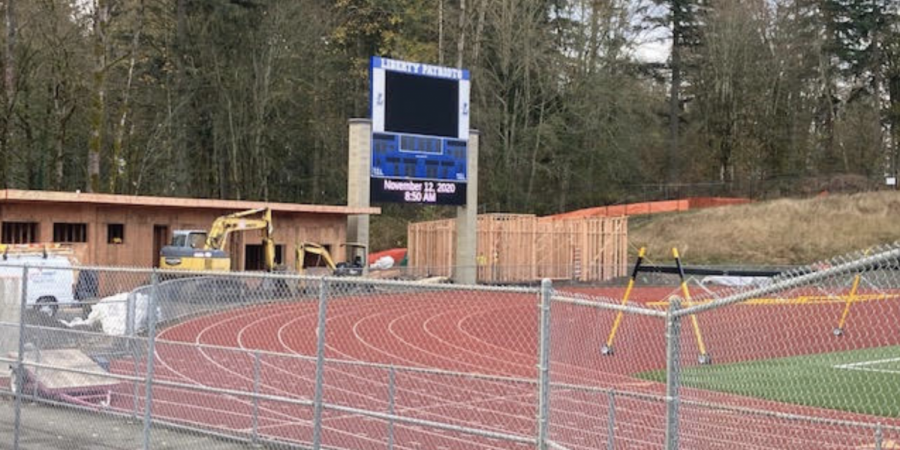 "The next step in the renovation is what we refer to as a horseshoe," vice-principal Loren Krogstad said. "On the south end of the field, under the scoreboard, they're constructing a new concession stand, new bathrooms, maybe a bit of storage, and an office for the field manager."
The renovation was needed for several reasons beyond just aesthetics. 
"The turf itself was so worn down that it was dangerous to play on.  The original home bleachers were not wheelchair accessible, the bathrooms were getting old, the track was worn down, and basically everything needed to either be fixed or updated," JV girls soccer coach Kelsey Foote said.    
         The stadium renovation, though a long time coming, has slowly but surely progressed during the last few months.
"There's progress being made. There's some foundation set, there's plumbing in, they're getting ready to pour some concrete, and they've already started putting retaining walls up. It's definitely exciting to see the progress," Krogstad said.
         There is much that Liberty hopes to gain through the stadium renovation process.
After the renovation, Liberty will be able to host numerous new, different sporting events. This would allow the concession stand to make more money and increase overall revenue for the school. This money can then be redistributed to different clubs and athletics.
         This, however, is not the only foreseeable positive result of the stadium renovation.
         "With newer facilities, we will be able to host more playoff games at Liberty, which will give athletes homefield advantages, such as traveling less, familiarity with the field, and more crowd support," Foote said.
         Athletes, too, are excited for the change that the new stadium will bring.
         "It's certainly something to look forward to," sophomore varsity soccer player Michael Keyes said. "I'm excited to see the stadium after the renovation, and I look forward to being back on the new and improved pitch."
         "We already have a beautiful setting for a stadium," head football coach Steve Valach said. "The way it's set down in the bow with the covered stands on both sides is great, so I think that these new changes are just adding some of the finishing touches to make our stadium a first-class venue for sporting events."