FourLIberty students recognized as National Merit Semi-Finalists
"I was very surprised when they told me I was a semi-finalist, because the room I was taking the PSAT in had a mini-fridge that was so loud the entire time. It was the only thing I remember from the entire test," senior Hallie Chen confessed.
On September 11th, four liberty seniors–Chen, Dillon Gyotoku, Yegor Kuznetsov, and Matthew Rubenstein–were informed that their PSAT scores were the highest of Washington state.
"I was ecstatic when I found out because I really need to become a finalist for the colleges I'm applying for," Rubenstein said.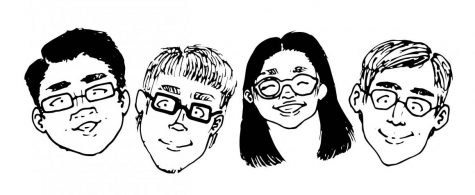 The process for becoming a National Merit Scholarship finalist is not easy, according to Rubenstein. A recognized student must have one of the 50,000 highest PSAT index scores (calculated by doubling the sum of the Reading, Writing and Language, and Math Test Scores). Two-thirds of those recommended receive letters of Commendation and can no longer continue in the competition, and the top third then become semi-finalists (a group of about 16,000). Finally, after becoming a semi-finalist, one must turn in all paperwork, ACT, or SAT scores to the program; be a senior in high school or freshman in college, be endorsed by the principal for great moral character, and have a record of high grades.
After all of that, 15,000 semi-finalists will be notified in February if they are finalists.
What do Liberty's semi-finalists recommend to anyone interested in preparing for the SAT journey?
Both Chen and Rubenstein strongly advise using Khan Academy's* practice questions for the SAT at least an hour a day for all sections of the test. They also recommend getting a lot of sleep, eating, and drinking a lot of water the week before.
To learn more about the National Merit Scholarship Program please visit nationalmerit.org.
*not sponsored by Khan Academy