The art of Art
Art: if you have ever lived on Earth, chances are you have consumed some form of it. Books, music, drawings, and films are just a few categories of art, which is defined as "the expression of human creative skill." Here at Liberty, student artists share their creative talents in many ways, both in and out of school. But why did they become artists, and why is art such a big part of many people's lives?
December 13, 2018
Art: A Fun Time
What draws people to art? For many, it's not a deep question.
"Art is just a really fun way to express what you want to say. Also that's a stereotype about art that bugs me; it doesn't always have to say something. I just like drawing for the fun of it," senior Julie Jordan said.
For senior Toshin Rao, who makes movies and short films, creative expression is very fun.
"I'm definitely happiest when I'm making something. It's very, very enjoyable. I feel productive, even though I know I'm not making much. It's the way the mind works," Rao said.
For senior photographer Dylan Kostadinov, it is this enjoyable aspect of creative expression that makes him an artist.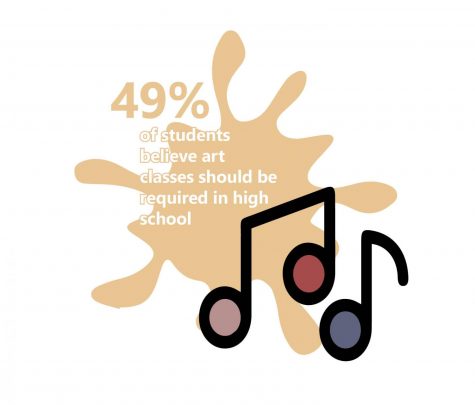 "I like that photography captures the beauty of earth's aesthetic, and I get to create something that is truly unique. No shot is the same as another shot out there," Kostadinov said.
Art also offers more freedom for experimentation and mistakes than many other activities in life.
"With photography and art in general there's some sort of aspect to it where you can't really fail. You can fail with school subjects, but sometimes when you have a mix up in photography it actually turns out really beautiful," Kostadinov says.
Because art is so accessible and appealing, many students have discovered they enjoy creating one type of art over others. This is the case for junior Ruby Poile, who enjoys drumming and creating electronic dance music.
"I love how music is just everywhere," Poile said. "Music can be made from practically anything; there are no bounds for what can and can't be used to create music. And drumming is really fun because I get to hit stuff."
Art: A Community
Art has a tendency to gather like-minded individuals and give a place for communities to grow.
For junior Hannah Mattson, who competes as a ballroom dancer, dancing had given her stronger connections to others.
"Dancing has given me a community and a stronger friend group. Each time I dance, I value team aspect of ballroom and how we all are together to dance," Mattson said.
For senior Brian FitzGerald, being a member of a band has also provided this stronger connection to the community.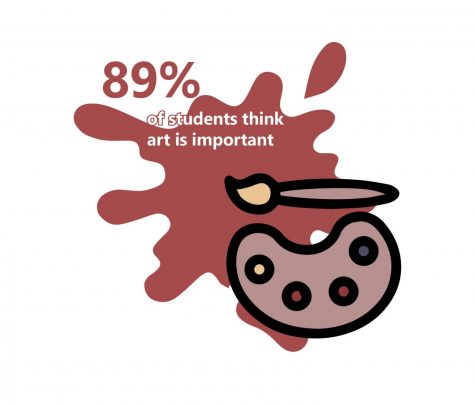 "Music has helped me meet new people and form relationships that I wouldn't have otherwise be able to make," FitzGerald said. "My band, for example, have all become closer though music, and being able to share music with other people and seeing their reaction is just good for me."
Many artists also find a sense of satisfaction from sharing their art with the world. Junior Marco Murillo, known for his dreamy and vibrant drawings, finds this especially true.
"Seeing other people's reaction to my art is really meaningful to me," Murillo said. "When I'm drawing, people like to watch what I'm doing and form a little crowd around my desk in the classroom. It really is just the most rewarding feeling when the person you are making art for is happy with it and will cherish it."
Kostadinov agrees that sharing art can be a rewarding experience.
"When I took senior pictures over the summer, people would always email me like, 'oh these look so good' or 'thank you so much these are awesome.' It is just really nice to see how my work can really influence a whole family," Kostadinov said.
Art and Humanity
Over 89 percent of Liberty students say that art is important. Perhaps this statistic is due to the benefits art provides, many of which Liberty students are familiar with.
"A lot of times people struggle getting themselves out in the world and themselves being understood," FitzGerald said. "I feel like art, any form of art, is a good way of doing that and it lets people get to know you better."
For Murillo, art has been a way to express his imagination.
"Drawing just gives you so much freedom to just create anything. It's just you, a pencil, and paper and you can essentially draw anything that is on your mind," Murillo said. "It is such a cool way to translate what you see in your head and show other people what is going on in there."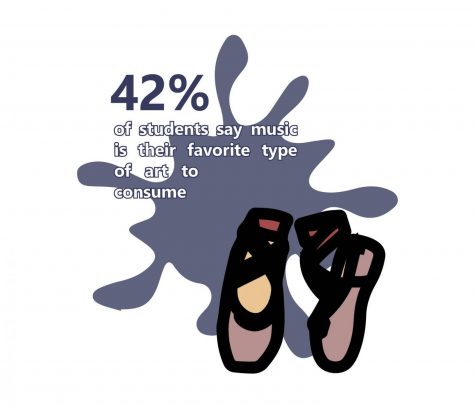 Senior Emma Ream, who enjoys visual arts, writing, theater, and sewing, finds a lot of purpose in art.
"As far as my art goes, I personally like to create stuff for a purpose. It is through telling stories that we learn through each other, and it is through art that we can speak the loudest," Ream said.
Senior Lilly Moore, who enjoys making jewelry and drawing, finds that art allows for creative expression in unusual ways.
"Art helps you spread ideas in unconventional ways. Often times when you create art, you are taking an idea that you have in your head and translating it into a new way of communicating," Moore said.
Rao agrees that art has important benefits for humanity.
"Art is almost a rebellion, in itself. It literally contributes to nothing society considers to be important. So is it important to society? Definitely not," Rao said. "But is it important to humanity? It's one of the last saving graces in our modern world."
The Challenges of Art
"Art class has been rough," Rao said.
It is a sentiment reflected by many artists — many students enjoy making art less when certain criteria is imposed on it.
"Following instructions is the opposite of what art is supposed to be. When you try to fit the criteria of points, you're just pandering to points instead of making something that's true to yourself," Rao said.
Murillo also finds that making art is less enjoyable when there is a time crunch or other stipulations on his creativity.
"Being pushed to have a new idea every week sometimes makes you feel like you're manufacturing art which is not what you want because you lack motivation. The times when I didn't enjoy art were when I wasn't expressing myself: when I was doing it for someone else," Murillo said.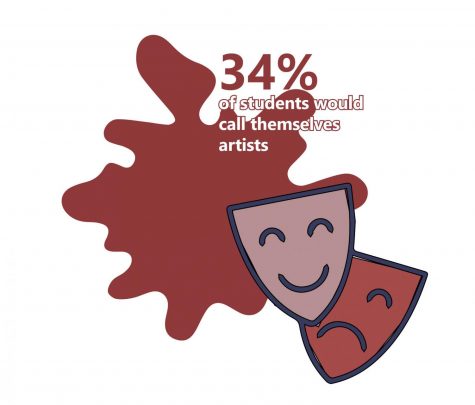 For Kostadinov, who has made his photography into a business of sorts, reconciling creativity with stipulation of customer has been a challenge.
"When I get paid to photograph, like when I do photography for photoshoots, that kind of takes out the creative aspect of it. That's when I feel like I'm doing a job more than doing a hobby or something I enjoy," Kostadinov said.
Jordan, who enjoys drawing and photography, agrees that making art is more exciting when there is less criteria to fulfill, but specifically in the message of the piece.
"I mainly don't enjoy art when I am forced to make it deep. If I want to make it deep I will but other times if I just want to draw for fun that's what I'm going to do. Art is all about expressing what I want to say," Jordan said.