"Welcome to the Blumhouse" review: a hit-and-miss horror series
In October, Amazon Prime Video released a collection of four films by Blumhouse, the famous horror production company behind Annabelle, The Conjuring, and more. While each movie has a different premise, they share similar themes and thrills. With Blumhouse's strong reputation, expectations were high for this anthology. Some of the movies definitely won't have you scared straight, but others are truly chilling. Which of these horror flicks are worth the watch?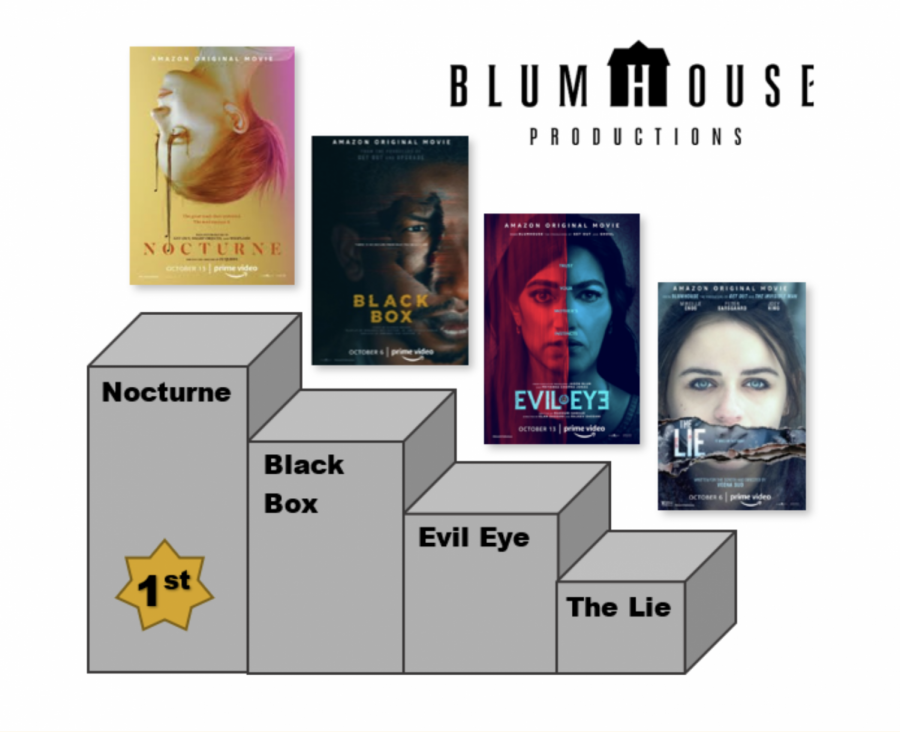 The Lie
The Lie centers around a teenage girl, Kayla (Joey King), and her divorced parents, played by Peter Sarsgaard and Devery Jacobs. Kayla and her father run into her best friend waiting at the bus stop while on the way to a dance camp. They offer her a ride and after a bathroom break, Kayla returns, frantically claiming that she pushed her friend off a bridge. As wild as the plot may sound, the entire middle of the movie is snooze-fest. The performances were strong with Sarsgaard shining as the distressed father, and the dark mood of the story held promise. None of these promises were fulfilled, however. For an hour we watch Kayla's parents struggle to cover up for their daughter's crime. There are major plot holes, and the characters make countless poor decisions. All of this leads up to a plot twist that has no real shock value or any explanation. Don't waste your time. 
Black Box
After a tragic car accident, a man named Nolan (Mamoudou Athie) is left to raise his child without his wife and with no memory of the past. He attempts to relearn basic tasks and re-enter the workplace with the help of his young daughter. Eventually, Nolan turns to psychotherapy with a neurologist (Phylicia Rashad). The film resembles a Black Mirror episode as Nolan uses technology to venture deep into the shadows of his mind. But when Nolan's memories are presented through fascinating and disturbing visuals, he begins to wonder who he really is. It's an impressive directorial debut for Emmanuel Osei-Kuffour, who explores many concepts and raises ethical questions. Ultimately, Black Box is a slow-burn movie that's interesting to watch but more sci-fi than horror. 
Evil Eye
Evil Eye follows the strained relationship between a daughter, Pallavi (Sunita Mani), and her mother, Usha (Sarita Choudhury). Usha, who lives in India, wishes her daughter would follow tradition and find a husband. Pallavi is a single woman working in New Orleans, however, and does not envision settling down any time soon. Suddenly, Pallavi is swept off her feet and falls for a seemingly perfect man named Sandeep (Omar Maskati) who she meets in a cafe. The relationship raises red flags to Usha, who questions the man's intentions. Usha eventually comes to believe that Sandeep is a reincarnation of her abuser from many years ago and sets out to reveal the truth to her daughter. The movie does not fit the traditional genre lines of a horror or thriller. It's an entertaining story that keeps viewers engaged until the end, but it lacks any scares, and the stakes sometimes feel low. Those expecting a classic Blumhouse feature may be let down by the casual pace of much of the film.
Nocturne
Twin sisters Juliet (Sydney Sweeney) and Vivian (Madison Iseman) have been playing piano since they were young. They spent countless hours mastering the art and dedicated their lives to piano in hopes of attending a top school like Julliard. Over the years, Vivan grew better and better, overshadowing Juilet's talents. When graduation and their final performance approaches, Juilet's jealousy overwhelms her. Suddenly, she stumbles upon the diary of her classmate who had recently died by sucicide. The pressures of music school weigh on Juliet, and she discovers that the diary is the key to changing her luck. Nocturne is by far the best of the bunch—it's the only one with cover-your-eyes-in-fright moments. The story is intense and unpredictable, and the paranormal scenes are bone-chilling.