Fall: the squash fever season
Everyone knows that fall is the flu season, but I believe squash fever is just as rampant at this time of the year. Don't believe me? I've been infected, so I know. Unlike the flu, though, it's not necessarily something to avoid. The day I came down with the squash fever, I ate squash for breakfast, lunch, and dinner. Read on to see my all-day squash menu.
Breakfast: Pumpkin French Toast
Recipe adapted from delish.com
Cuisine: American, French
Difficulty: Intermediate
Yield: 4-6 servings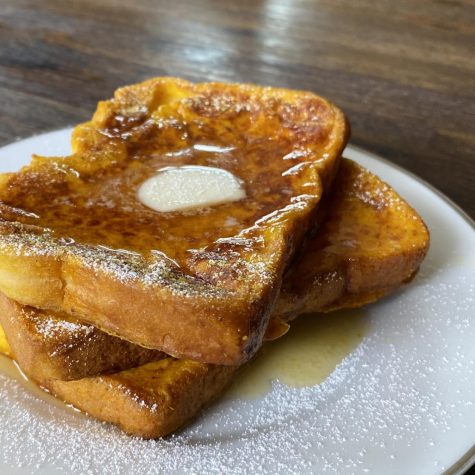 Ingredients:
4 large eggs, beaten

¾ cup milk

½ cup pumpkin puree

1 tsp vanilla extract

½ tsp pumpkin pie spice

Pinch of salt

1 loaf brioche, sliced

3 tbsp unsalted butter, divided (for cooking)

For serving: butter, powdered sugar (optional), maple syrup
Directions:
In a shallow baking dish, whisk together eggs, milk, pumpkin puree, vanilla, pumpkin pie spice, and a pinch of salt. 

In a large nonstick pan, melt enough butter to cover the surface of the pan. Soak 2-3 bread slices in the pumpkin mixture, about 20 seconds on each side. Cook on medium-low heat until golden brown on both sides. Repeat with the remainder of the bread.

Serve with a knob of butter, powdered sugar, and maple syrup.
Lunch: Roasted Kabocha Soup
Recipe adapted from drivemehungry.com
Cuisine: American, Japanese
Difficulty: Easy
Yield: 4-6 servings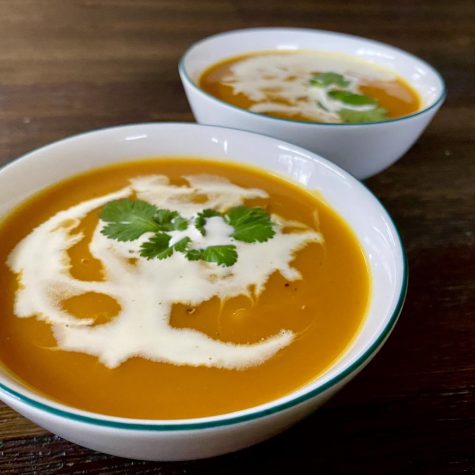 Ingredients: 
1 kabocha squash

2 ½ cups vegetable stock

¾ cup heavy cream or coconut milk

1 tbsp maple syrup or brown sugar

3 cloves garlic, chopped

Salt and pepper to taste

For garnish: fresh cilantro, ¼ cup cream or coconut milk

Optional flavorings: 1 tsp grated ginger, 1 tsp nutmeg, 1tbsp miso, or 1 tbsp curry powder
Directions:
Cut the kabocha squash into quarters and remove the seeds. Roast at 400

°

F for 35 minutes or until tender.

Scoop out the kabocha flesh and combine it with the rest of the ingredients (except for the garnish) in a blender. Blend until smooth.

Pour the mixture into a pot and bring to a boil. Season with salt and pepper to taste.

Serve warm. Garnish with a drizzle of coconut milk and chopped cilantro.
Dinner: Squash and Chard Manicotti
Recipe from cuisineathome.com
Cuisine: Italian American
Difficulty: Advanced
Yield: 12 manicotti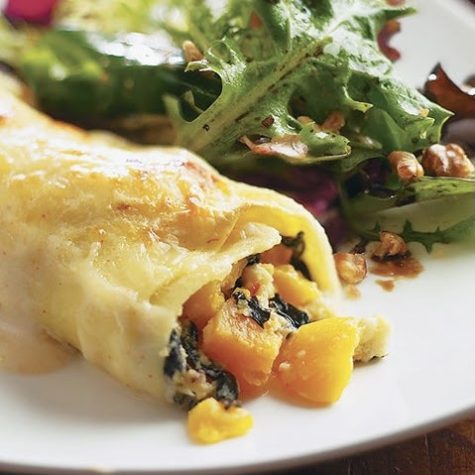 Ingredients:
Manicotti:

Filling:

2 ½ cups peeled and diced butternut squash

1 cup diced leeks

Pinch of red pepper flakes

2 tbsp unsalted butter

¼ cup vegetable broth

2 tsp sugar

2 cups sliced Swiss chard

1 tbsp minced fresh sage

½ tsp salt

½ tsp black pepper

1 ½ cups shredded Gruyere, divided

1 cup part-skim ricotta cheese

¾ cup grated Parmesan

1 egg

Bechamel:

3 tbsp unsalted butter

¼ cup all-purpose flour

3 cups milk

½ tsp salt

¼ tsp white pepper

¼ tsp nutmeg

¼ tsp cayenne pepper
Directions:
Preheat the oven to 425

°

F. Coat a large baking dish with nonstick spray.

Boil lasagna sheets for 4 minutes or until pliable; drain.

Saute squash leeks, and pepper flakes for the filling in 2 tbsp butter in a nonstick skillet until leeks are soft, 5 minutes. Add broth and sugar; cover until liquid evaporates and squash is soft; 5-7 minutes. Stir in chard and sage; cover and sweat until chard wilts, 2 minutes. Season filling with ½ tsp salt and black pepper.

Blend 1 cup Gruyere, ricotta, Parmesan, and egg together in a large bowl. Fold in squash mixture.

For the bechamel, melt 3 tbsp butter in a large saucepan over medium heat. Stir in flour, cook 1 minute, then whisk in milk. Bring mixture to a simmer, stirring constantly, until thickened; remove from heat and add ½ tsp salt, white pepper, nutmeg, and cayenne. Coat the bottom of the baking dish with 1 cup bechamel.

Fill and roll manicotti; top with remaining bechamel and ½ cup Gruyere. Bake manicotti, uncovered, until cheese is golden and sauce is bubbly, 25 minutes. Let manicotti stand 5 minutes before serving.