'Borat 2' review: politics and public pranks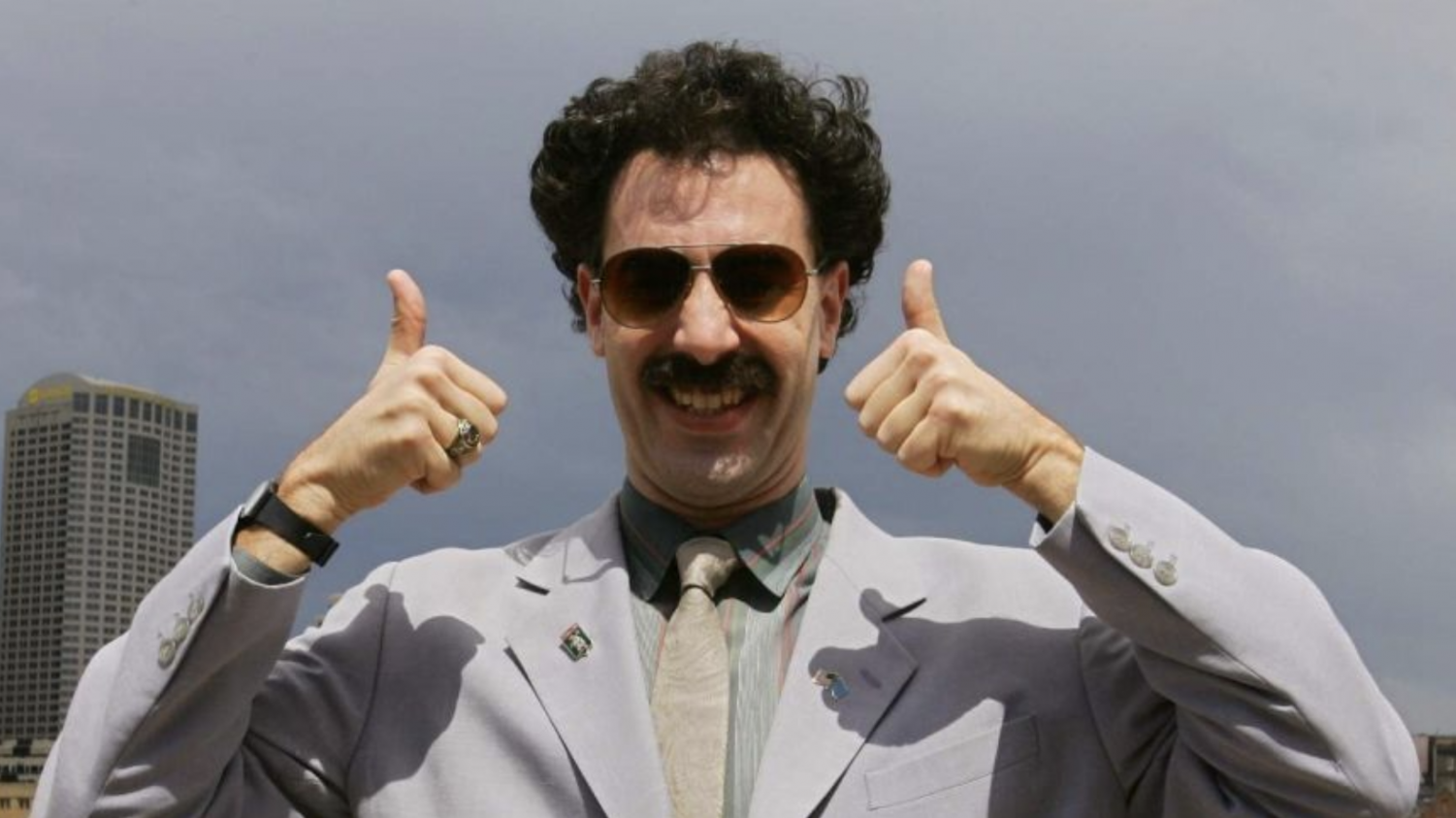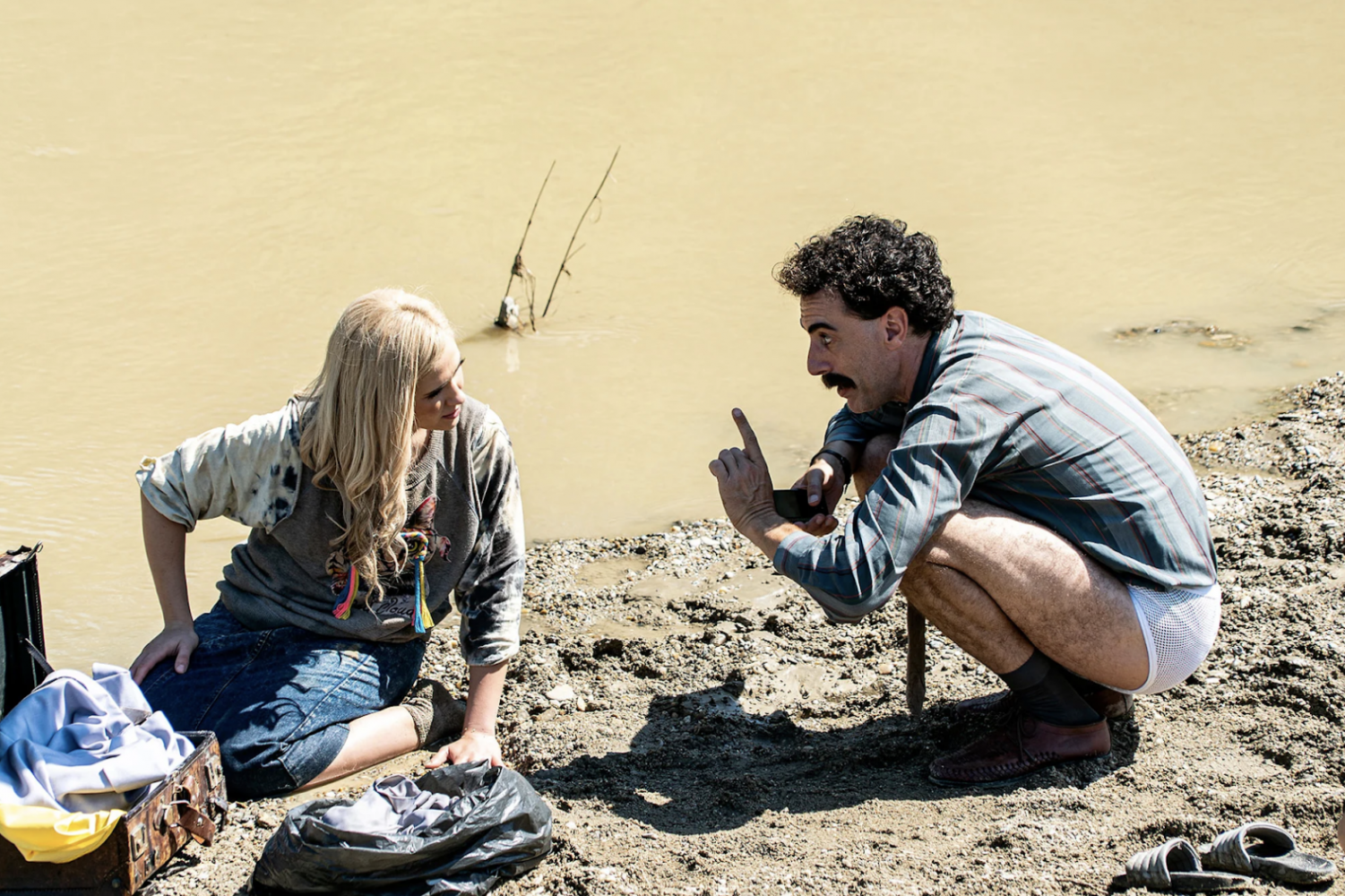 Screen Shot 2020-11-23 at 10.27.44 PM
Sacha Baron Cohen sports the famous Borat look: a boxy gray suit and bushy mustache. Source: Amazon Studios
Screen Shot 2020-11-23 at 10.27.59 PM
Maria Bakalova and Sacha Baron Cohen crouch by a dirty Georgia river for an amusing scene. Source: Amazon Studios
When comedian and actor Sacha Baron Cohen first introduced his character Borat Sagdiyev in the 2006 movie, Borat: Cultural Learnings of America for Make Benefit Glorious Nation of Kazakhstan, the world was forever changed. The mockumentary saw Borat, a reporter from Kazakhstan, journey to America and face a variety of real-life situations; he violated social taboos, acted in outrageous ways, and offended everyone he encountered. The movie was one of the most hilarious and captivating explorations of American culture, and Borat became an iconic character in the nation. Much to everyone's surprise, Borat has returned for 2020, facing a divided country. But is Borat really what we need right now?
Borat Subsequent Moviefilm: Delivery of Prodigious Bribe to American Regime for Make Benefit Once Glorious Nation of Kazakhstan was released October 23, 2020 on Amazon Prime Video. Filming was kept a secret, and the announcement of the movie created a major stir in the media. Could the sequel live up to the legacy of the first movie? On top of that, Baron Cohen is an outspoken political activist, and many wondered how he would approach Trump's America as Borat. The result was a film that exposes the hatred and ignorance at the heart of the United States while providing plenty of jaw-dropping moments that are just short of the comedic brilliance of its predecessor. 
After humiliating all of Kazakhstan 14 years prior and landing himself in prison, Borat is desperate to regain his standing. In a mission to earn the respect of Kazakhstani officials and impress the United States, he decides to deliver the country's most prized monkey as an offering for President Donald Trump. Tutar, Borat's daughter, ends up sneaking along for the journey, and he focuses his efforts on making her a suitable gift for Vice President Mike Pence. The ridiculous narrative is an entertaining basis for the movie. However, Borat runs into some trouble upon arrival. People in the street recognize the character instantly, and he can no longer run around in his traditional costume. When Baron Cohen puts away his iconic grey suit and adones elaborate prosthetics, a bit of charm is lost. 
The film is easily as brave as the one before, however. Borat spends five days living with two members of the alt-right conspiracy group QAnon. He goes to Trump rallies in Georgia and sings on stage at a pro-gun event in Olympia, Washington. He even gets kicked out of the Conservative Political Action Conference in Maryland for shouting at Pence while dressed as Trump with Tutar slung over his shoulder. 
Through cringe-comedy, Borat reveals the sickening ideology of many people in America that is genuinely unsettling. He demonstrates the anti-semitism, racism, and sexism in casual interactions with locals across the south. The satire is funny yet almost disheartening, but more importantly, it is extremely relevant. Baron Cohen shows the country's critical need for fundamental change, unification, and accurate information. It can be truly hard to watch, but it is absolutely urgent. 
Borat Subsequent Moviefilm is at its best when Borat's daughter, Tutar, is on screen. Played by newcomer Maria Bakalova, she manages to create moments of genuine emotion as she experiences revelations about women's role in society. Tutar's heartfelt interactions with strangers and self discovery stand out from the slap-stick plot. Bakalova is a star and performs equally well in the quick-witted, improvised, and uncomfortable scenarios. She is insanely brave and dives head first into her role, standing her ground next to Baron Cohen through the jaw-dropping scenes. Bakalova's solo missions are immensely entertaining: she single-handedly crashes a Republican Women's Club meeting, and in undoubtedly the most controversial scene, poses as a journalist interviewing Trump's lawyer, Rudy Giuliani, in a hotel room. 
Even though the original Borat remains unmatched, it's sequel is certainly worth the watch. It has pranks with more build up and greater gravity than laugh-out loud stunts, but there are plenty of mortifying and hilarious scenes. The film comes at such a divisive time, so there is more to be earned from watching it than just laughter. Most Borat fans will not be disappointed. Whether it's the crazy encounters or outrageous public pranks, Borat Subsequent Moviefilm will definitely stick with you.