Teen series showdown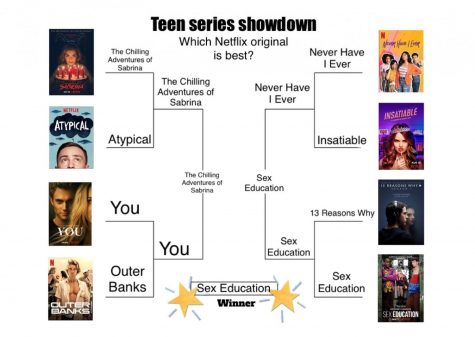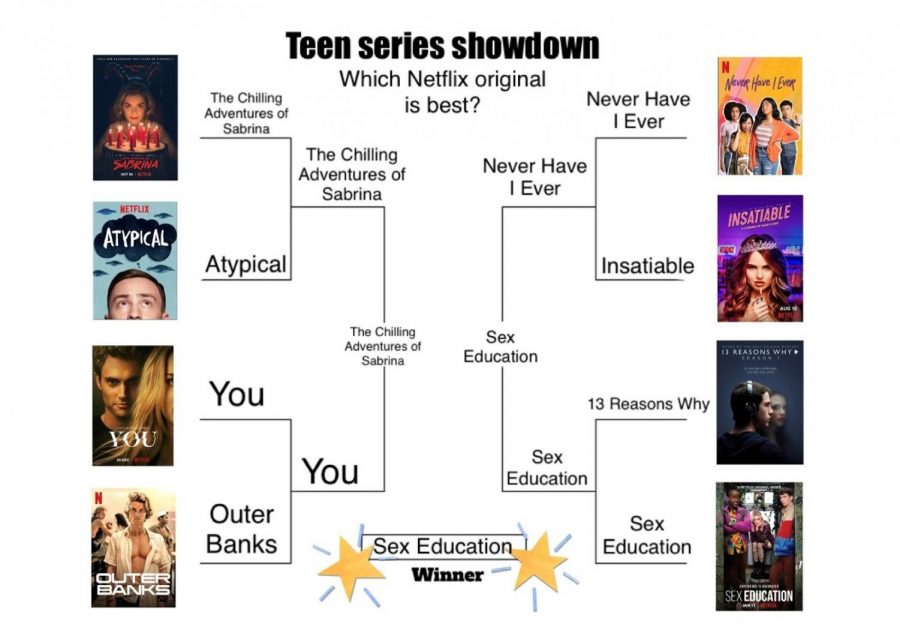 You
You follow a charming man named Joe (Penn Badgley), as he falls in love with a woman named Beck (Elizabeth Lail) who he meets in a bookstore. What starts out as a sweet story quickly turns dark as Joe's sociopathic tendencies are revealed and he develops an obsession for Beck. Even with its cringey moments, You is a nail-biting thriller that will definitely have you hooked.
The Chilling Adventures of Sabrina
Based on the Archie Comic series and branching off of the CW's hit show Riverdale, The Chilling Adventures of Sabrina wraps romance, horror, and adventure into a gripping coming-of-age tale. The show stars Kiernan Shipka as Sabrina Spellman, a half-mortal half-witch who must navigate her human, high school life as well as her duties in the underworld. Featuring fan-favorite actor Ross Lynch (who plays Harvey Kinkle) and lots of "ships," the show is popular among teens. The show also receives critical praise for its creative sets, strong performances, and unique storylines, making it one of the best teen series on Netflix.
Insatiable
Insatiable is the story of a plus-sized teenage girl named Patty (Debby Ryan), who loses weight, joins the pageant circuit, and seeks revenge on those who bullied her. Rather than promote self-love and growth, Insatiable is problematic and outrageous, sending concerning messages to viewers.  Frankly, if you are watching this show to unwind after a long day, you may end up more angered by the terrible plot.
Atypical
Atypical tells the endearing story of Sam (Keir Gilchrist), a boy on the autism spectrum. Viewers get a look into Sam's world as he explores what it means to grow up and gain independence. The heartfelt comedy has been going strong for three seasons, gaining praise for its inclusivity and touching messages. The show is low-key and emotional, so those looking for fast-paced drama may be less interested.
Sex Education
Although it is not one to watch with your parents, Sex Education is one of the most complex explorations of teenage feelings and awkward high school years on television. The show features stellar performances from a diverse cast. Asa Butterfield stars as Otis, a shy and gifted boy who finds himself a "counselor" to all of his peers. Otis makes a business out of giving highly personal advice to his classmates, though he cannot seem to figure out his own problems. The show delves into the lives of multiple high schoolers with different home lives, backgrounds, and insecurities. There is a moment or character that anyone can see themselves in. Sex Education is relatable, hilarious, and beautifully written.
13 Reasons Why
Based on the young adult novel by Jay Asher, 13 Reasons Why was controversial from the start. The first season tackles sensitive topics such as suicide and assault and was met with mixed reviews. Many were offended by the show, calling it a glorification, while others were moved by the strong performances and heartbreaking story. Ultimately, the series dug its own grave deeper and deeper in later seasons, becoming over the top and outright inappropriate. It is best you exit Netflix after season one or just avoid 13 Reasons Why altogether. 
Never Have I Ever
Written by Mindy Kaling, Never Have I Ever tells the goofy and unique coming-of-age story of a fifteen-year-old girl. The series is led by breakout star Maitreyi Ramakrishnan, who shines as the hot-headed and hilarious Devi. The show deals with heavy topics such as grief, messy romances, and embracing your heritage, providing its teenage audience with valuable lessons. As Devi tries to social climb and make the sophomore year "her year," she must face the pain of her father's death and determine who her real friends are. The off-beat tale manages to engage its audience emotionally and provide great laughs. 
Outer Banks
Outer Banks was a big hit this summer, bringing viewers into the drama-filled world of a close-knit group of teens in North Carolina. The series follows four teenagers living on an island separated by social class. The main character, John B (Chase Stokes), is convinced that finding the treasure his dad went searching for will lead him to answers of his dad's disappearance–but all is not what it seems. The show is filled with adventure and supported by a gripping plot. However, not much can be said for the mediocre acting, and the series loses points for its cringey dialogue.