BreaKing news: strong woman crash lands and touches your heart
You've heard of teen dramas. Medical dramas. True-crime dramas. But have you heard of Korean dramas?
Crash Landing on You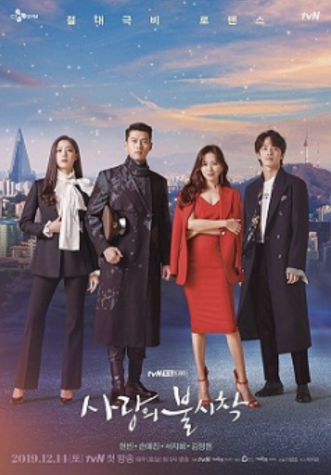 If you're a skeptic and not sure you'll enjoy K-dramas, Crash Landing on You is the perfect gateway Korean drama. It was the beginning of my Korean drama craze and continues to be my favorite show months later.
Crash Landing on You follows the story of Yoon Se-ri, a successful South Korean businesswoman and heiress, and Captain Ri Jung Hyuk, a North Korean army officer from an influential family. 
After a paragliding mishap in which she literally crash-lands on Captain Ri, Se-ri finds herself across the North-South Korea demilitarized zone, stranded in North Korea with no way back home, and (due to fateful timing and the incompetence of his fellow soldiers) Captain Ri finds himself with no choice but to help her. 
Throw in a ragtag group of fellow North Korean soldiers, a fake engagement, an undercover North Korean plot, and the threat of discovery, and voila: the perfect show. 
From star-crossed lovers to a classic good-girl bad-boy story, Crash Landing on You covers a variety of loveable, timeless television tropes. The soundtrack is amazing, the casting is flawless, and the cinematography is beautiful. With a balanced blend of humor and danger, love and loss, Crash Landing on You is a must-see television show. 
Strong Woman Do Bong Soon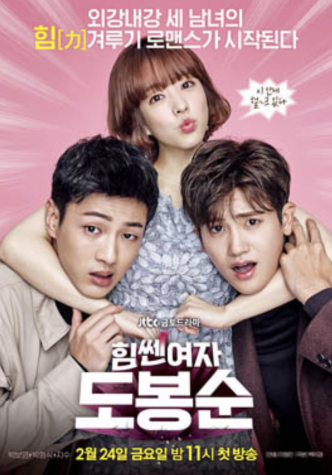 I'll admit, I went into this television show with high expectations. I had heard about it through Instagram and it had been recommended to me by several fellow K-drama fans. I wanted to like it, and I was excited to begin. And then I began. 
As the name indicates, Strong Woman Do Bong Soon tells the story of Do Bong Soon, an average girl with a not-so-average secret: the maternal side of her family is born with superhuman strength, which is lost if they use it to harm an innocent person. Bong Soon usually finds it hard to keep a job thanks to her supernatural strength, but after a chance encounter, she is hired by An Min-Hyuk (the CEO of a gaming company) to be his bodyguard.
In theory, Strong Woman Do Bong Soon has all the components of what could be a great Korean drama: a strong female lead, a cute love triangle between the main character's longtime crush and new boss, and good casting. And at times the show is enjoyable: there are good moments of humor and the group of students who followed her around like she is a god are hilarious. 
But for me, something about this K-drama just fell short. The graphics were often too cliche, and the series seemed like it was trying too hard to be cutesy. The main couple was cute, but they were almost unrealistically so given the circumstances of the plot. Meanwhile, the main antagonist was creepy in a way that clashed with the context of the drama.
Altogether, as much as I like the actor Park Hyung-sik, I couldn't find it within myself to finish watching the show, even as it reached the most climatic moments of the series.
Touch Your Heart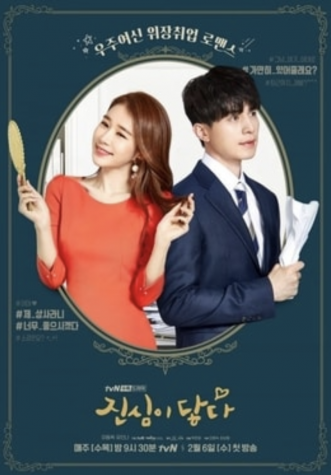 If you like office romances, this show is for you. Touch Your Heart remains the cutest, most feel-good Korean drama I have ever watched, and for this reason, it is by far one of my favorites.
Released in 2019, Touch Your Heart tells the story of the once famous actress Oh Yoon-seo whose career was ruined after a drug scandal. In order to score her first role in a major crime television series in two years, Yoon-seo has to work for two months at a law firm. At said law firm, Yoon-seo works as the secretary to Kwon Jung-rok, a strict lawyer known for his frosty demeanor. 
At first, Yoon-seo and Jung-rok hate each other: he thinks she's hindering his work, and she thinks he's rude. But as time goes on, they find that they might not dislike each other as much as they originally thought.
If you are in search of a light and funny,  undeniably adorable show, Touch Your Heart is the perfect choice. The main characters make up perhaps the healthiest television couple I have ever witnessed, and the leads' chemistry is irrefutable.
Yoon-seo and Jung-rok are the two most loveable characters ever, and their relationship is adorable. Touch Your Heart is the perfect television for whichever mood and whatever day.