Madeline Parrish, Staff Writer

March 21, 2020
Athletics are a huge part of the Liberty community, and don't often go overlooked. But Unified sports, and particularly Unified cheer, rarely get the attention they deserve. "Unified cheer is a combination of LRC2, or special education, students and general education students working together on...
Madeline Parrish, Sports Editor

January 21, 2020
Perhaps you've seen him wandering the halls, in class, or cheering at football games with his sparkly cheer box. Liberty has recently acquired their first male cheerleader in years: Bruce Vagt. "I was sort of just joking around last year about how I was going to join the team," Vagt said. "But...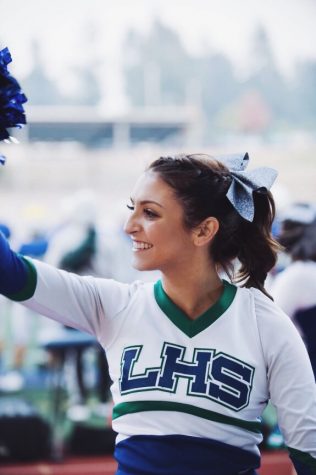 Kelly Jinguji, Editor-in-chief

October 25, 2018
This year's varsity and junior varsity cheer teams consist of young, first-time cheerleaders, which offers a different team dynamic than in past years. Though the team chemistry varies for this year, it allows for a great opportunity for growth. Senior varsity captain Allie Gross is one of three leading the team (alongside junior Madeleine Hsiao and sophomore Hannah Weng), and each captain—especially Gross—is excited to see how the cheer team will progress forward.