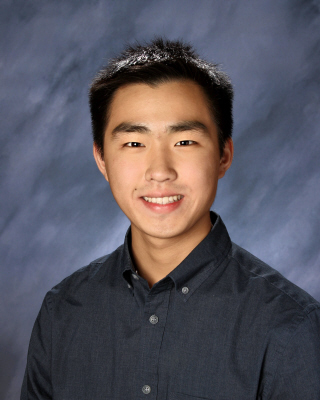 Vincent Ung: DECA to UW Foster and beyond
Senior Vincent Ung is part of a selective group of students who were offered direct admission to University of Washington's Foster School of Business, where he will be attending in the fall. For the past four years, he built his application to include exemplary academics, countless volunteer hours, VOICE mentoring, being a yearbook editor-in-chief, and two years on Liberty DECA's executive board, where he served as chapter president his senior year. 
With his impressive history, it's easy to think that he's always the loudest voice in the room, or maybe that being a leader came easily to him. But that's not true. 
"I used to be a really quiet person. I was always shy because I would be really intimidated and afraid to talk to people," Ung said. "But everything comes gradually. I had to take little steps to become president; it started with working in the store, then competing at nationals, then becoming financial officer my junior year, and then finally becoming president. I set little goals along the way."
Ung believes that his past experiences helped him become a better leader. He hasn't forgotten the feeling of being unable to talk to people in positions of authority. As a result, he makes sure that he is always friendly to others, which has made him one of the most respected leaders in his community. 
"I understand what it's like for others to feel like officers or adults are hard to talk to," Ung said. "I think it's really important to treat people well and be someone that others look up to, so I always want to be really approachable and to be someone others feel they can talk to." 
While Ung will be attending UW Foster School of Business with hopes to study abroad and learn more about international relations, that wasn't his goal from the beginning. At first, he wanted to become an architect. But after learning more about the industry, he realized it wasn't for him.
In fact, it was Ung's exposure to the business world through DECA which inspired him to pursue a business-related career. He encourages others to try and have as many real-world experiences as they can to help them figure out their goals, whether they be through internships, simulated case studies, or other similar programs. 
"Being a leader can be really stressful at times, but in the end, it's all worth it because I always learn so much. A lot of my growth can be attributed to the times I was pushed out of my comfort zone," Ung said. "I think my biggest takeaway from high school, volunteering, DECA, and everything else is that people are not as intimidating as they seem. I used to be really scared of others, but now, there are people who are scared to talk to me. But we're all just human."