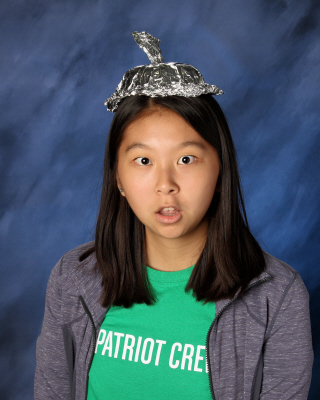 Sonja Gunderson: gunning for a great future
As a stellar news reporter, expert pun maker, airplane-constructing SciOly rockstar, and one of few who have braved the trek to Costco during the 30 minute lunch period with her partner in crime, Hunter Reilly, Sonja Gunderson is clearly a woman of many feats. 
Although Liberty will be sad to see her go, it should be comforting for those who know and love her to see that Gunderson has found her calling at the University of Washington's Biological Engineering program. 
By going into biological engineering, Gunderson can explore her interest in medical procedures as well as go into engineering like her dad, who works as an engineer for Boeing.
"It's really the best of both worlds," Gunderson said.
As a bioengineer, Gunderson will be designing and building the machines that doctors use regularly to carry out surgeries. Gunderson's parents have specially requested a device to help ease knee pain. Who knows? In twenty years, your life could be saved by a machine created by Liberty's very own Sonja Gunderson. 
So it's no big surprise that she is so excited about going to college—you would be too if you were to find the perfect major at the perfect college for you.
"There wasn't really anywhere else I wanted to go. I kind of put all my eggs in one basket, and I'm really lucky that it worked out," Gunderson said.
Of course, she will miss the friends she has made and the daily routine of being in high school, but there is so much for her to look forward to. College provides a great transition into independence, and Gunderson is looking forward to new experiences like living on her own–though her speedy Costco driving skills may come in handy when she feels like taking a trip home…
Gunderson, although it hertz to see you go, and you will be missed, we wish U (of W) luck and know that you're going to build yourself a fantastic life!