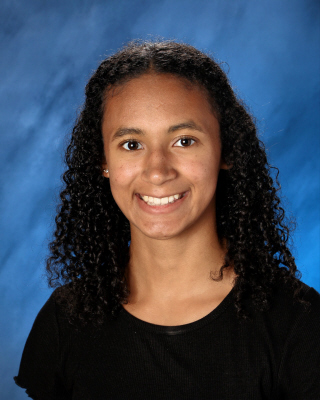 Solana Jenkins is taking the sound (of her trumpet) to the University of Puget Sound
Most people will probably tell you that graduating high school can be a little daunting. Whether you're going to college or a trade school or taking a gap year, it's leaving high school and going somewhere new.
    Senior Solana Jenkins has an added layer to the unknown: she's the first person in her family to go to college.
 "Being a first-generation college student is kind of scary," Jenkins said. "It's hard having to find out everything on your own instead of being able to ask a sibling or your parents."
However, that's not to say Jenkins doesn't have it figured out. Next year she'll be at the University of Puget Sound, majoring in kinesiology with the goal of going into physical therapy.
    "My sophomore year I dislocated my knee and had tears in my MCL during a gymnastics meet. Having to go to physical therapy because of that sparked my interest in becoming a physical therapist," Jenkins said.
    But Jenkins won't just be learning about anatomy at UPS—she's also going to be studying performance trumpet in their school of music, having garnered a music scholarship. 
She started playing the trumpet at a young age and since then it's become a big part of her life.
"My mom and older sister played the trumpet when they were in grade school, and I was interested in doing the same. Ever since, I've loved playing and growing as a young musician," Jenkins said.
At Liberty, she's been a member of the band and played in the pit orchestra. This, as well as the inspiration of her trumpet tutor and band teacher, have helped her both in playing the trumpet and in life.
"Having Mr. Tanner, who also plays trumpet, as my band teacher has influenced me to play in college. He, along with my trumpet tutor, has encouraged me to try new things despite being afraid of them which ultimately got me music scholarships for college," Jenkins said.
And even though right now, next year seems a little uncertain, she is motivated and excited for college.
"No one in my family has gone to college, and I am eager to break that cycle and graduate from one too," Jenkins said.