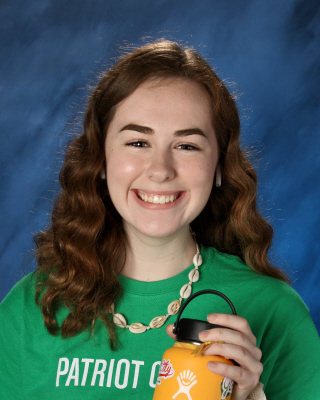 Molly Keegan: the student ready to become the teacher
We all know that 3+1 equals 4, but for senior Molly Keegan, her 3+1 means four years studying at the University of Portland. There, she can finally start the future that she's always dreamed of.
As this year comes to a close, seniors like Keegan are preparing to begin their post-high school plans. They might not have been able to leave Liberty the way they anticipated, but that doesn't stop them from moving on to bigger things. 
For Keegan, this means getting ready to make the move to Portland in the fall. She always knew that she would go on to study elementary education, but definitely wasn't expecting it to be at the University of Portland.
"I applied on a whim," Keegan said. "It was previously my sister's top pick, and my mom encouraged me to apply since she thought I would like it there. I was close to not applying at all."
But it was lucky that she did. Not only did she get offered great financial aid, but Portland also offers a 3+1 program for teaching majors that allows Keegan to earn both her bachelor's and master's degrees in four years. In the end, she'll also be eligible to get her teaching license.
"It's the first 3+1 program for teaching in the Pacific Northwest that I've seen. At most schools, 4+1 programs are more common," Keegan said.
Alongside this amazing program, Keegan will begin student teaching in the fall to give her hands-on experience. But this won't be her first time teaching.
"I grew up wanting to teach since my mom was my teaching role model. I was always helping out teachers in my schools and I even taught swim lessons," Keegan said. "I've also always been good with kids, especially when it came to teaching. That's why I'm interested in elementary education."
And it's this interest which keeps her motivated during this troubling time. She's optimistic about her future and hopes someday to return back to Washington after earning her degree to start her teaching career.
"The dream is to have my own classroom in ISD. I'm grateful for the Issaquah School District, and it provides good opportunities for both students and teachers," Keegan said.
As for her other interests, Keegan made a good name for herself at Liberty as a choir member and an actress. 
"I hope to continue with choir and theater, but I know I'll be busy. One of my goals, though, is to hopefully travel to Austria with the University of Portland's great study abroad program," Keegan said. 
And with that, as a last farewell, this truly inspiring graduate offers a few pieces of advice for the rest of her fellow Liberty students. 
"What you think you're gonna do or where you think you're gonna go is probably not where you'll actually end up," Keegan said. "Be open-minded and to seniors, the pressure may feel like it's on, but don't feel like this decision is gonna dictate the rest of your life." 
So, thank you, Molly Keegan, for your dedication and hard work at Liberty these last four years. Good luck at Portland, and congratulations to you and the class of 2020!