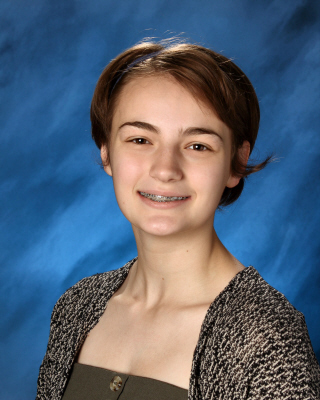 Hunter Reilly, WSU Legacy
"Good night and good luck." 
These are the immortal closing words of renowned CBS broadcaster Edward R. Murrow, America's voice of reason during the McCarthy era, and, as it turns out, a Washington State University Cougar. He even has a building named after him on campus, and one Liberty student can't wait to jump right in and experience the studio for herself.
Hunter Reilly, who plans to attend the university in the fall, has been surrounded by Cougar fans since the day she was born. "My parents always talked about going there. They have a lot of 'Cougar pride'. They still wear WSU shirts and hats, and they keep up with the football team," she said.
Located in the cozy town of Pullman, WSU requires all freshman students to live in the school's dorms, meaning everyone is in the same boat during their first year. "My parents always talk about all the different types of people they met, and how it was easy to make friends because everyone there is in the same situation, being away from home for the first time," Hunter said. 
When she visited the campus for herself, she experienced nothing but kindness from everyone she met, giving her a really good feeling about the school as a whole. 
During her college education, Hunter plans to study broadcast production at the Edward R. Murrow School of Communication. Throughout high school, her favorite class has been Video Production, which galvanized her interest in communications. 
"I think it would be so cool to learn how to produce a news segment in a semi-professional setting using high-quality equipment," she said.
WSU has a nightly news show called Murrow News 8, named after the famous correspondent himself, and the communications department frequently publishes student-made films to YouTube, giving Hunter plenty of opportunities to explore within the world of video production.
To other potential legacy students, Hunter has a few words of wisdom: "If you have the opportunity, you should visit the campus with your parents who went there. I visited WSU with my dad, and his commentary and stories made the campus seem like it could eventually become familiar and homey to me, too."