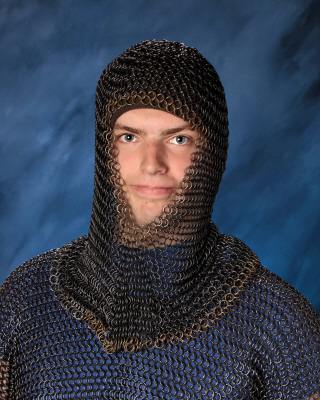 Forging Ahead with Jay Beeman
Need a sword? Cutlery? Auto parts? Jay Beeman has got you covered. Liberty's drum major and mechanical whiz is now taking his passions one step forward as he prepares for college. Beeman's love of building has led him from forging tools in his garage to shaping a future at Purdue University in Indiana. 
"I just want to make things. Ideally, I'd want to design and help build big machines… cars, space stuff, etcetera." Beeman said. He plans to study in Purdue's prestigious engineering program and eventually earn a degree in Mechanical Engineering. 
"I'd be happy working as an engineer for any big company in the aerospace industry," Beeman said. Working to develop cutting-edge machinery for aerospace giants like Boeing in today's rapidly developing aeronautical scene would give him the opportunity to take his skills literally out of this world.
Until then, he's working to build experience and master the basics of engineering. At Purdue, Beeman is considering joining an engineering or machining club, where he can continue to hone his skills in a hands-on environment that gives him the freedom to take engineering concepts beyond the walls of the classroom. 
Before he leaves for college, Beeman is also interviewing with Mortenson, a construction and manufacturing company offering summer internships to engineering students. Working with Mortenson would provide a window into the work life of mechanical engineers and give Beeman a chance to build his resume as well as machines. 
Until then? "I'm most looking forward to being able to take classes that are useful to me, having more freedom with how I live, and meeting new people in college." Beeman said. "Hopefully they'll let me make swords there."