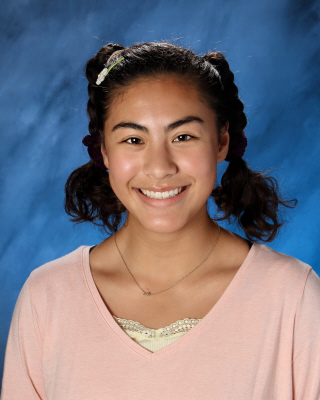 Forever a patriot: Natalie Crouse
You may have seen her face around school or heard her voice during the morning announcements, but there are probably things you still don't know about senior Natalie Crouse. For example, she's a die hard Harry Potter fan who loves going on hikes. However, there is one thing that is abundantly clear about Crouse. She loves her school. 
"I love spending time at school. Liberty is just a really comforting place to talk to my friends or teachers," Crouse said. 
Crouse doesn't just love the learning aspects of school–she loves all the activities and opportunities she got to engage with while at Liberty. Crouse has been in ASB, Key Club, Honor Society, Craft Club, JSA, PBSES team, and has even been on the girls volleyball team and participated as the boy's soccer team manager. She is exceptionally grateful, however, for her time in ASB with Mrs. Munson. 
"Mrs. Munson has been one of my greatest motivators these past few years. Even when things were tough, she has been the person to help me get up and get over it," Crouse said. 
ASB not only allowed Crouse to meet one of her mentors, but it also taught her how to be a leader. While Crouse knows that a lot of people view being an ASB officer as a title, it has taught her to use it as anything but. Throughout her experience in ASB, Crouse strove to to help others and motivate them to be as excited as she was to go to school. 
"Being a leader has been my driving force. I wouldn't be any more wiser than my freshman self if I didn't learn the lessons I did during my time in ASB," Crouse said. 
Crouse also had to face other challenges and learn other lessons outside of ASB. Throughout her time at Liberty, Crouse learned that change is good. 
"Changing yourself isn't a bad thing, and you have to accept change before you move on. My future is completely different than what I had first envisioned but that's okay," said Crouse. 
Crouse plans to spend the next 4 years at Seattle University studying biochemistry, and eventually hopes to become a physician's assistant. As Crouse finishes off her time at Liberty, she knows she will cherish her time there and will miss being in high school. 
"I'll miss a lot of things about Liberty. I'll miss the closeness the most. I will miss not being able to experience things with my friends," Crouse said. 
Crouse knows there are a lot of changes and new experiences to look forward to. However, there is one thing that will never change—her love for Liberty. 
"As my friend Ali Gouge best put it, I will always love this place," Crouse said.