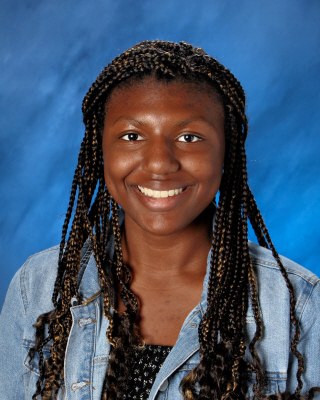 Amaya Martin slam dunks into college
Senior and varsity basketball player Amaya Martin has proudly announced her decision to go to Concordia University Chicago (CUC). She will be playing Division 3 basketball there, and even though CUC does not give out athletic scholarships, Martin has received enough scholarships to cover all four years. But her reasons for choosing CUC go deeper than that. 
"I was born and raised in Chicago before living in Washington, and all my family lives there.  I knew that playing the sport I love back in my hometown surrounded by close family was an opportunity I had to take," Martin explained. 
Martin has been playing basketball for eight years, and with the help of CUC, she plans on majoring in business communication with a minor in marketing in hopes of becoming a public relations specialist. 
"Being a student-athlete and then working at ESPN would be my dream job, because I want to help other rising athletes reach their full potential. I've always enjoyed interacting with others and making a positive impact on any projects I take on," Martin said. 
Martin's positive attitude has not gone untested getting to where she is now. Not only has she experienced the disruption of the coronavirus pandemic, but right before her basketball season started, her father passed. 
"My dad passing away was one of the hardest things I've ever experienced," Martin stated. "My dad had been helping me with the recruiting process and after it happened, I had to do it all myself."
Martin had to juggle setting up basketball visits and meetings while still trying to get ready for school basketball and classwork. Her advice to everyone who is going through a hard time is that "no matter how hard life could get, always persevere and be resilient."
Martin did not learn this lesson on her own, those at Liberty that especially helped her were two staff member.
"I would like to thank my counselor Ms. Flores and culinary teacher Mrs. Matusda for not only listening and giving me advice but for always believing in me and giving me the encouragement to be a better person on and off the court." 
Martin would also like to thank her family, friends, teammates, and coaches for sticking by her and cheering her on.