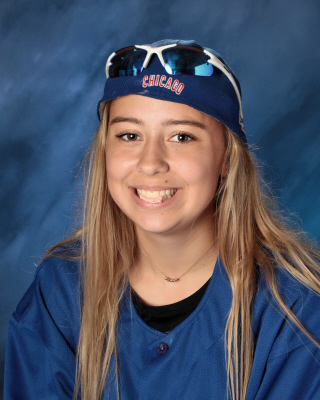 Ali Gouge: spreading smiles at Liberty and beyond
If you've seen senior Ali Gouge around school, chances are, she was smiling. With a twinkle in her eye and a laugh you want to bring home to the parents, Gouge is one of the most sweet-hearted and genuine people you'll meet.
    She draws particular inspiration for her kind spirit from her family friends who live in Cabo San Lucas, Mexico. Gouge has visited these family friends—whom she views more as family than friends—almost every year since she was born. Their selfless actions have had a major influence on her.
    "They have shown me how to be confident in myself, and that it's okay to be different from those around you," Gouge said. "Someday I want to be just as compassionate and generous as they are."
One of the events Gouge cites as being most impactful to her was when, following the devastation wrought by Hurricane Odile in 2014, her family friends had a choice to leave Mexico, or to stay and help rebuild. Ultimately, they stayed in Mexico and stayed true to their compassionate nature, helping out their neighbors and community by going to the barrios and handing out food.    
But kindness and drive is not all that her family friends have taught her.
    "Being exposed to an entirely different culture at such a young age has definitely given me a different perspective and outlook on cultures which may be different from mine," Gouge said.
    Gouge's family friends in Mexico, however, are not the only family from whom she draws inspiration. She also draws a lot of inspiration from the family she has here in the United States.
    "I come from a family of nurses: both my grandmas were nurses, and my uncle and cousins are PAs," Gouge said. 
    Following graduation, Gouge will be following in their footsteps, and pursuing a nursing degree at Montana State University.
    "I like helping others and being social, so I think nursing is the perfect job for me," Gouge said.
    What with everything going on in the world today, we could all definitely benefit with having a nurse as kind and generous as Ali Gouge. Good luck Ali—we wish you all the best!