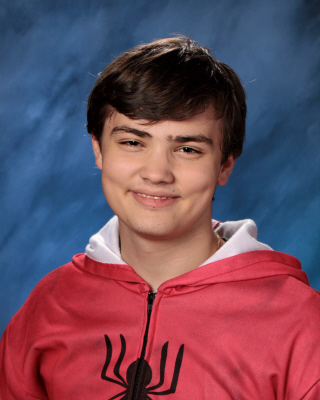 Joseph Carr's becoming a Cougar
Throughout your first three years of high school, you look up to the seniors. They're the oldest in the school, have the most experience, and are great role models for the younger classes. As the class of 2020 says their final farewells to Liberty High School, it's time to learn a little bit more about one senior in particular: Joseph Carr. 
After graduating, Carr (being an active member of the church of Jesus Christ of the Latter-day saints) plans on participating in a mission trip for his church. Although he does not know where it will take place, he's excited to see where it takes him.
"I'm most excited to see where I go and what I do," Carr said. "I'm most scared to leave everything and everyone I know and go off into the world and do things."
After completing his mission, Carr will attend Brigham Young University-Idaho. 
"I chose BYU because one, its teaching style fits the way I learn and two, it is a church school and I like it," Carr said. 
Looking back on his past four years, he's thought about some things that he would have done differently.
"I would have procrastinated less and turned in assignments on time," Carr said.
Carr also looks back on his favorite memories and his beloved times during his high school days.
"My favorite memory is of the times when I've just hung out with friends and enjoyed myself and let myself be me," Carr said. He clearly remembers the time he ran from the choir room to the locker room, jumped down two flights of stairs, and bursted his bursa all to find out that what his friend had told him was a lie. 
Carr is also an active member in the Liberty Singers and has premiered in many productions put on by the Patriot Players. He's been in 6 productions plus the one acts and 48 hour play festivals. He was also going to be in this year's production of Wonderful Town.
"My favorite part is the people," Carr said. "The people in choir and theater are so fun to be around and you make so many fun memories. 
As Carr's final days as a high school come closer and closer he hopes to tell the incoming senior class some words of advice.
"There's no right or easy way to go through your senior year," Carr said. "Just work hard, keep your friends close, and don't forget to have some fun every now and then."
As Carr embarks on his exciting adventures after high school, we all wish him the best of luck.