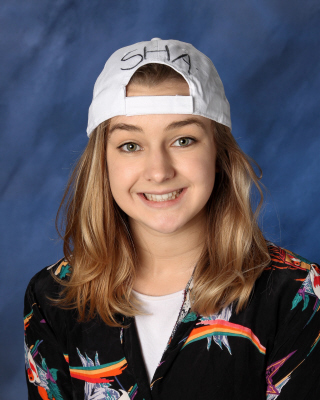 Shannon Bergin
Imagine it's your senior year and you are deciding which colleges you would like to go to. An in-state college; it's cheaper and closer to home. Or maybe out of state: somewhere sunny and far from home, with a change of scenery. But what about studying abroad? A whole new country, culture, and adventure. Well, Shannon Bergin is going to University College Dublin (UCD) in Ireland to major in economics this coming fall!
"I chose UCD because I loved the city, wanted something new and exciting, and I was just ready for a change in my life," Bergin said. 
There are so many different reasons to study abroad other than the excitement of studying in a foreign country. Getting a degree abroad is much more affordable than at an American university. You can impress future employers, broaden your horizons, and work on personal development. 
"I first came across the idea when I was researching different schools and how much they cost. I realized that it's almost cheaper to go out of the country than it is to go out of the state. I was also looking at places that spoke English and Irish seeing that half of my family is Irish," Bergin said.     
It can be scary and frightening to step out of your comfort zone. Traveling thousands of miles away from something that you've been familiar with for the past 18 years. But the people you meet, the things you learn, and the places you explore can be the experience of a lifetime. There will be things you love and things you hate, but it will be a memory to keep forever.
"I'm most excited about seeing something new and having a fresh start with new people and new places. However, I'm least excited about the rain. I've grown up with rain my whole life and did want something a little different," Bergin said.
If you're interested and have no idea where to begin, don't hesitate to ask counselors or teachers. There are tons of websites and videos with information on how to get started. Don't wait until the last second, and start planning early. 
"Always ask for help and reach out. With applying to Dublin, I had great contacts with different counselors and people at the school who were willing to help me fill out the applications. If you can visit the schools in person, it makes a huge difference," Bergin said. 
If you're looking for something new, studying abroad may be for you!