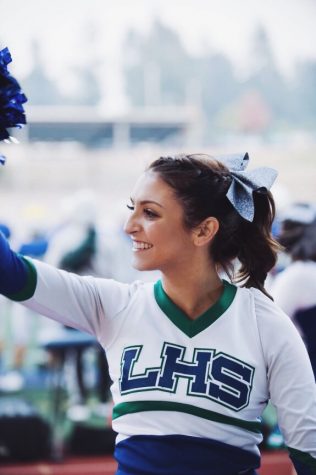 Kelly Jinguji, Editor-in-chief

October 25, 2018
This year's varsity and junior varsity cheer teams consist of young, first-time cheerleaders, which offers a different team dynamic than in past years. Though the team chemistry varies for this year, it allows for a great opportunity for growth. Senior varsity captain Allie Gross is one of three leading the team (alongside junior Madeleine Hsiao and sophomore Hannah Weng), and each captain—especially Gross—is excited to see how the cheer team will progress forward.
Enter your email address below to receive our daily email updates.
How often do you go off campus for lunch?
Never (38%, 58 Votes)
Less than once a week, but at least once in the past (22%, 34 Votes)
Nearly every day (18%, 28 Votes)
Two to three times per week (13%, 20 Votes)
Once a week (9%, 14 Votes)
Total Voters: 154

Loading ...
Tuesday, November 27

Boys Basketball

Liberty 77 - Issaquah 78

Saturday, November 24

Football

Liberty 24 - Hockinson 27

Saturday, November 17

Football

Liberty 21 - Ellensburg 10

Saturday, November 17

Girls Soccer

Liberty 4 - Sehome 1

Friday, November 16

Girls Soccer

Liberty 3 - Burlington-Edison 0

Saturday, November 10

Girls Soccer

Liberty 2 - North Kitsap 0

Friday, November 9

Football

Liberty 21 - Sehome 14

Tuesday, November 6

Girls Soccer

Liberty 4 - White River 1

Saturday, November 3

Girls Soccer

Liberty 1 - Sehome 0

Friday, November 2

Football

Liberty 31 - Sedro-Woolley 28