Patriots top Lancers in preliminary round of 3A playoffs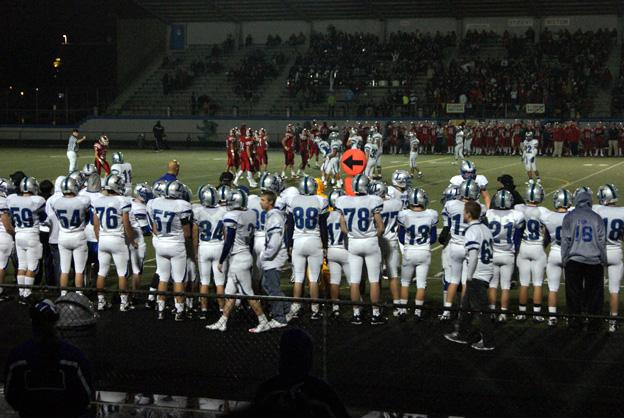 .
November 8, 2010 • Michael Payant, Managing Editor
Filed under Football, Sports, Top Stories
On a rainy Friday night at Highline Stadium in Burien, the Liberty Patriots easily took care of the Kennedy Catholic Lancers, by a score of 41-6.
The rain appeared to have an effect on the Patriots early, as a couple of fumbles prevented them from scoring on their first few drives. The Patriots lit up the scoreboard first on a 77-yard touchdown run by junior Hamilton Noel. After a failed PAT, the score stood at 6-0 Patriots at the end of the first quarter.
A 17-yard run by senior Chandler Jenkins would start the second-quarter scoring. The Lancers then chipped away at the Patriots 13-0 lead with a 3-yard touchdown hookup between Jason Thompson and Chris Grandberry. The Lancers also had a failed PAT and the score stood at 13-6 Patriots. Another touchdown by Jenkins, this one coming from one yard out, would give the Patriots a 21-6 lead going into halftime.
The lone scoring during the third quarter would come on a 60-yard completion from senior quarterback Trey Wheeler to junior receiver Josh Gordon. The Patriots would take a commanding 27-6 lead into the fourth quarter.
The momentum just kept drifting the Patriots way. A three-yard Jenkins touchdown run followed by an end-around 5-yard touchdown run by Gordon would cap off the night's scoring. Many reserves got playing time near the end of the game , when the Patriots' 41-6 victory was well in hand.
Next Friday at 7:00 the Patriots take on the Mount Si Wildcats at Mount Si High School. The Wildcats defeated #9 Glacier Peak 21-20 in Overtime this week. The Wildcats and Patriots met in a conference regular season game earlier this year. In the teams' Week 4 meeting at Liberty Stadium, the Patriots came away with a 38-22 victory.