Jazz Band rocks Seattle at the Triple Door
November 22, 2010 • Roland Deex, Staff Writer
Filed under Entertainment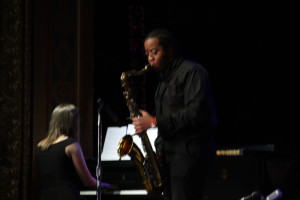 As the house lights dimmed and the spotlights flickered on, the Liberty Jazz Band found themselves once again on the stage of the famous Triple Door in Seattle, under the same lights in which countless jazz stars have been playing for years.
Last Tuesday brought the third annual Issaquah School District Jazz Night to the Seattle Triple Door. Led by Liberty's own Jazz Band, all three Issaquah schools performed classic songs by famous jazz musicians such as Duke Ellington and Jimmy Van Heusen.

"The cool thing about this event is that even though the three schools are big rivals and don't always get along, the students can still come together and put on a good show," band director Phil Donley said.

Although they lost a lot of well-tuned talent in last year's graduating class, the band this year has been able to fulfill expectations.

"We lost great musicians, but everyone has stepped up and filled their shoes," Donley said.

Among many musicians that rose to the occasion, junior trumpeter Greg Murashige stood out with a solo in "'Round Midnight".

"We sounded really good as a group. Our sound was crisp and on point," Murashige said.

And the audience couldn't have agreed more.

"The band performed very well," said sophomore Alex Bruck. "It sounded really professional."

Off to a great start, the band hopes to continue having impressive performances throughout the rest of the year.